WordPress post navigation Plugin attract and help your site visitors to find content easily. And these plugins force visitors to click on another site link. So these plugin also help to decrease bounce rate. Here we have listed top free and premium page navigation wordpress plugin that can increase page views.
#1. Theia Post Slider

[Best One]
Theia Post Slider for WordPress transforms your multi-page posts into slideshows, making them much more engaging and easier to browse. It works out-of-the-box without editing your existing posts and it's compatible with any WordPress theme. It has a user-friendly admin page where you can choose from over 60 slider themes and customize the plugin to your liking. We are also using this plugin in one of our site www.bollywoodabtak.com. This plugin also have a Carousel add-on allows you to have thumbnails for your slides, adding a carousel for a richer user experience.
Price: $23
More Info & Download Link
#2. WP-PageNavi

[FREE]
This plugin provides the wp_pagenavi() template tag which generates fancy pagination links.
#3. WP Post Navigation

[Free]
WP Post Navigation Plugin gives you facility to show Previous and Next Post Links at the Top or Bottom of a Post. You can set to navigate within category or date wise navigation. You've the option to set Post Navigation Bar at Bottom, Top or both Top & Bottom.
#4. Awesome Post Navigator
Awesome Post Navigator is a Premium WordPress Plugin where you can view the Previous/Next Post by clicking the Previous/Next Post Button. The Previous/Next Post Buttons are placed on the left and right side of the post. This Plugin gives much comfort and the user can navigate your Posts with ease.
Price: $12
More Info & Download Link
#5. UberMenu
Top Selling Premium wordpress plugin. UberMenu is a user-friendly, highly customizable, responsive Mega Menu WordPress plugin. With This WordPress plugin, you can make powerful mega menu in any wordpress site easily. You can add anything in your site menu. This plugin is fully responsive and gives your site users a rich experience.
Price: $19
#6. Smart Navigation Widgets
Smart Navigation Widgets is plugin with 4 widgets (and 1 bonus widget) ideal for bloggers or any other WordPress users with big archives that can be hard to navigate. Using this plugin, you can display AJAX powered archive widget that shows only small portion of archives to user, and allows him to navigate deeper only when he needs to.
Price: $19
#7. TouchCarousel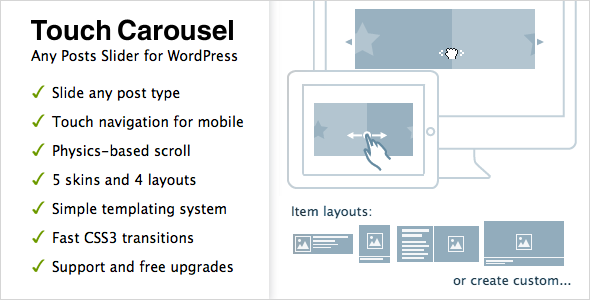 TouchCarousel is a posts content slider WordPress plugin with touch navigation for mobile devices. You can slide custom post types, with custom taxonomies (categories, tags, e.t.c.) and create layout templates using simple template system. It's created based on TouchCarousel jQuery plugin.
Price: $25
#8. Featured Posts Slider
This plugin is to add sliders on featured post. Users can easily slide posts.
Price: $23
#9. Side Slider Post Navigator
Side Slider Post Navigator is a WordPress plugin, which can add to Post, Page, E-commerce Product or any other custom Post Type the side navigation buttons to the Prev/ Next Post. These side buttons also have some extra features – they can display side navigation sliders on hover of them.
Price: $17
More Info & Download Link
#10. Advanced Post Navigator
Advanced Post Navigator adds awesome "Next and Previous" buttons to all posts and pages. It also displays complete information about the next and previous post in a hover bubble.
Price: $12
#11. Visual Post Navigation
Visual Post Navigation allows to your visitors navigate between easily your posts.
Price: $14
We hope you find these WordPress plugins useful. These WordPress post slider plugins increase blog traffic for free and engage your website users to spend more time on site. Your Website users easily navigate WordPress next post previous post pages.