Hello Readers of iTechCube.com, Here I'm going to review another ad network ExoClick. I'm using this network from the last 2 years and received payment many times. So this is the time to review this ad network.
Detailed ExoClick Review
About ExoClick Ad Network
Exoclick (Exoclick.com) is the 4th largest ad network in the world, they serve 225 billion geo-targeted monthly ad impressions, they have some of the highest CPM rates in the industry, competing head to head even with PopAds. Exoclick is an adult advertising network from Spain and has CPC CPM-based ad types for publishers and advertisers. they are legit and paying ad networks having high CPM CPC rates. they are paying via PayPal, Payoneer, paxum and wire transfer with a $20 min payment and 1000$ min payment for Wire.
ExoClick Legit or Scam?
These days, many ad networks are available online. And they claim a good CPM rate to their publishers. And many Scam Ad Networks are also available. SO here we test the ad network and publish true reviews with payment proof. Legit trusted and paying ad network. I'm using the ExoClick ad network continues from the last year and received payments many times. So I found ExoClick is a Legit trusted and paying ad network.
ExoClick Income Report
ExoClick has a good CPM rate for countries like the USA, UK, Australia, Canada. Their CPM rate up to $2 per 1000 impressions and CPC is more than 0.10$ per click. But in Asian countries its something very low. Here is the attached screenshot of income report statistics.
Recommended Ad Networks Reviews
Minimum Payout And Frequency
Exoclick minimum payout is $20 for paypal, paxum and payoneer. But $1000 for bank wire. So when you reach this ammount, you can request for payment. ExoClick pays its publishers on NET 7 Days option. So you don't need to wait for long time. You can recieve payment every week when you reach minimum threshold.
ExoClick Payment Methods
ExoClick Offers Various Payment Options To Their Publishers. You Can Get Your Payment Through PayPal, Paxum, Payoneer And Bank Wire.
ExoClick Payment Proof
We have received payment from exoclick many times. Here is the attached payment proof of exoclick.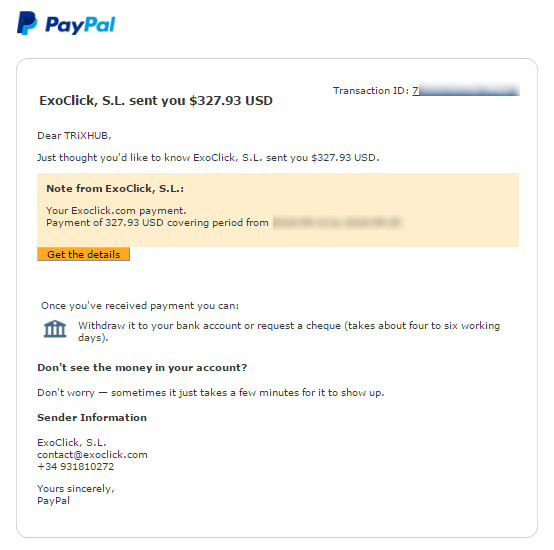 ExoClick Affiliate / Referral Program
You can also earn more with exoclick affiliate program. You will earn 5% lifetime revenue for referring your friends. You can find section Referal Program in dashboard.
ExoClick Ad Network Details
Network Type:
CPM, CPC
Ad Types:
Banner, Sticky, POP Up, Interestial
Payment Methods:
Paypal, Paxum, Payoneer, Wire
Minimum Payment Threshold:
$20
Payment Frequency:
Net 7 Days
Accepted Websites
Mostly Adult and others also
Conflict With Other Programs
And/Or Exclusivity:
None
Requirements / Restrictions:
None
Website URL
www.exoclick.Com
Contact Email:
[email protected]