TRiXHUB has selected out the best online logo maker – DesignEvo, for all-level groups of people, that enables crafting any professional logo with the easiest steps.
To promote your brand and business, a professional & memorable logo will play a key part. If you go the normal way and ask for help from a logo designer, it usually costs a large amount of money. For small business owner, it's unbelievable and unreachable. Does it mean that small business owner can't have their own effective logo for their brands? Definitely, the answer to it is a big NO! If you search online, you will find there are an array of logo creation tools online, which varies from free online logo maker to open source GIMP, from inexpensive logo design website to Photoshop. Where there is a will, there is a way!
The winning product that stands out from our selections is DesignEvo online logo maker. Anyone who wants to give it a try ahead can feel free to click on its website below and use it without spending a penny:
All-round Review On Free DesignEvo Logo Maker
DesignEvo is the few stardom logo generators that you can find in the Internet and still enjoy using at free. Who doesn't love free stuff? Especially, it comes to a powerful and easy tool for logo creation.
Massive Shape Choices for Logo
As an easy logo creator, DesignEvo offers volumes of logo shape for directly using. There are various well-designed shapes in organization. For example, you will see [Solid Shape], [Outlined shapes], [Badge], [Banner], [Decoration], [Line] and [Symbol] in DesignEvo's Shape category. Just choose a category that you like, give a shape a drag-and-drop from the library, a logo shape can be attached to your logo canvas immediately.
If you don't like its color, DesignEvo supports changing it conveniently. Click on the color square on the operation bar, then the color pallet will show. It gives two option to color the shape, Solid Color and Gradient Color as the selection. If you prefer a solo color on the shape, [Solid] will satisfy you. If applying [Gradient], you will see a gradual change in the color, like rainbow.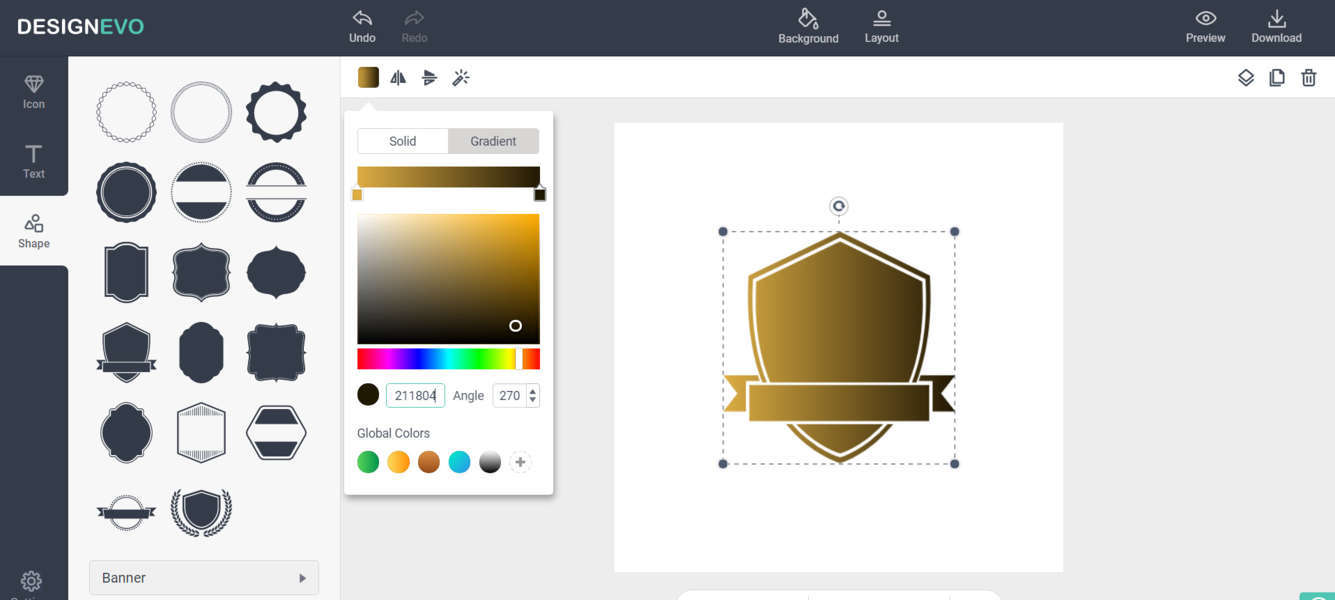 Classic & Art Logo Texts
In DesignEvo, there are two kinds of logo texts for users to choose from. For someone prefers something fashion in his logo texts, it's advised to use [Art] item, since it lists a variety of nice-look & fashion-style text samples. While if you wanna some plain texts to compile a simple logo, you are entitled to go [Classic] option with over 100 popular fonts. Double-click the text, letters can be typed into your logo text.
Likewise, a group of selections are reserved in logo text mode, such as, text color, text style and text effect. Besides, magic pencil allows you to add outlines and glows.
Searchable Icons
DesignEvo offers a wide variety of online icons, which can be easily searched through and applied. Keeping powerful and smart, the image search engine gives you the freedom to type anything you can think of, and will retrieve an array of theme icons in this category for your choice.
Layer Management & Align Control
Selecting an object, you are able to change its layer position through [Forward] and [Back] button. Therefore, you can easily arrange the looks of the overlaps. The same to DesignEvo alignment system, which is very advanced. By dragging and moving an object, you will see semi-transparent position dot-lines to assist moving and centering objects.
Practical Preview & Output
DesignEvo has various previews, e.g. logo on a T-shirt, logo in a website, logo on a book cover and so forth. The purpose is to let you know how it will look on such occasions, avoiding time wasting. Additionally, the output service is more delightful. DesignEvo supplies jpg, png and png with a transparent background for your logo downloads. For those who like to design a logo that takes less storage space, jpg is best for them. And png with a transparent background is widely used among websites. From our point of view, png is suitable for T-shirts as the logo automatically carries a white background.
Verdicts
DesignEvo is such a free online application that allows anyone to design a high-end logo for his company, blog, website and social media, in an easy and intuitive way.