Watermark software provides professional photo protection solutions for your photos,  Watermark Softwares allow you to add text watermarks, image watermark, and also some Softwares allow to add QR code to protect your images online.
There are many Online and also Offline tools available to watermark images. Previous we posted 5 Online tools to watermark your photos but now I'm here to provide you few best offline Watermark tools that work without internet connectivity. And these tools will work on your windows or MAC PCs perfectly. These tools are for Best Way to Watermark Photos.
Want to download free watermark software? If yes then Check the list of offline watermark tools.
Also Read: 10 Free tools to record your screen activity
List Of Free Offline Image Watermark Softwares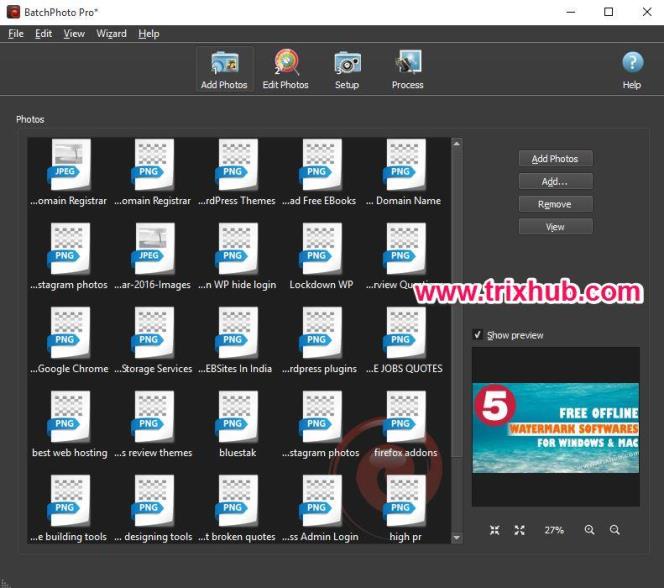 BatchPhoto is not only a watermark tool but BatchPhoto is designed to make batch editing simple and efficient. It allows you to automate editing for your massive photo collections. If you need time/date stamps, image type conversion, size changes, basic touch-up. BatchPhoto will do easily. With batchphoto you can edit and convert thousand of photos in one session. BatchPhoto will work both on windows and MAC Pcs.
uMark Watermark Software is another Free watermark software for both windows and MAC. uMark watermark tools is helpful for adding visible watermarks on digital images. uMark can add text and image watermarks on multiple photos at once.
uMark has lots of nice features. And it also has premium option. You can buy uMark premium version for $29, if you need more. But uMark Lite version has all the features for personal use.
Watermark software is also a good watermark software to protect images. Watermark software available for FREE with limited options. This watermark software can add Text watermark with rich effects, Image watermark, This tool also used as Invisible Watermark Software to add invisible watermark – EXIF information. You can add watermark in multiples of images in one time.
TSR Watermark Image Software from andromedaIT is a free program that can add watermarks to your images and documents. TSR watermark software is a good choice for premium option. Their Free version add Unregistered TSR Watermark Image
to the trial result images. This is only the bad things of this tool. SO for professional use, You can't use their Free version.
Star Watermark is a free watermark software for Mac or Windows computers. Star Watermark is a powerful and easy-to-use tool to add watermarks on your photos. With the program, you can batch add text watermark and image watermark to your photos, and can digitally sign your work/photos/graphic/artwork. Star watermark also provide PDF watermark tool to add watermark in PDF files.
---
We hope these FREE watermark Softwares help you to protect your brand images. So no one can use and you will not get surprise of seeing your artwork elsewhere on the web or in an ad.
If you are not find Photo Watermark Software Free Download for your need. Here are few bonus Image Watermarking Softwares. You can Test and use.
Photo Helper
Photo Helper will let you edit camera metadata, rotate pictures, and add a copyright watermark with just a few mouse clicks.
Visual Watermark software gives you all you need to protect your photos. It offers batch watermark mode to protect all your photos at once. Many watermark templates and appearance options help you get the watermark look you want. Rename and resize features make publishing images much easier. The watermark software is the perfect way to copyright your photos, yet easy enough to start using it immediately. Runs on Windows and Mac.