Affiliate program businesses are still on a roll as the boom in the affiliate industry continues. Many are a part of this industry, and many more want to enter it, either as merchants or as affiliates. The world ofaffiliate business continues to change and everyone needs to adapt to these changes to be able to stay in the business. The best way to have the ability to go with the radical flow of affiliating is to have firm grasp of the fundamentals. The basics of putting up and operating an affiliate program business are vital to success.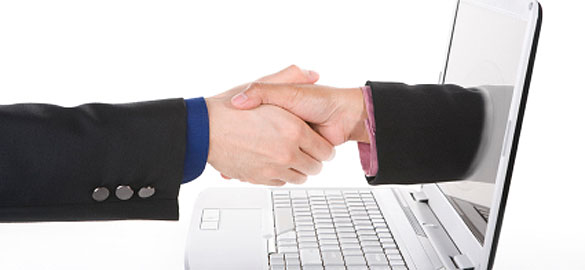 Affiliate Program Business Introduction
A website is the flag that signifies the company it belongs to. In the past only the well established and highly profitable companies have their own websites. But nowadays, thanks to the continuous evolution of the Internet, setting up a website has become so easy anyone can do actually do it. The fastest and easiest way of building a website is by using an online website builder that has ready-made templates and other webpage elements you can choose from to construct your very own unique website design. These sites will also be the ones to provide your sites URL for you. The downside to using these site builders is that most of them attach advertisements on webpages that are made with them, and their greatest advantage is the ability to design a website and get it online in less than an hour.
Design only grabs the attention of human readers, but before people can marvel at the beauty and greatness of your sites appearance, they must first be able to find it. And for people to find your site, the best and fastest way is that they find it in the results page of the major search engines. And one of the best ways you can get good rankings on the trusted search engines is through search engine optimization or SEO. SEO however can prove to be complex and hard to do especially to those who have never even heard of it before. A good alternative to SEO in getting your website seen is engaging in an affiliate program. Such action allows you to profit from your content-driven website's traffic as well as make sales with the same website.
Affiliate Program Business Definition
An affiliate program sometimes also called associate program in layman's terms is a system of arrangements in which an online website known as a merchant website pays affiliate websites commissions to send traffic to it. The affiliate websites post links to divert the traffic they receive to the merchant site. They are then paid depending on the affiliate agreement.  The commissions may be based on the number of visitors the affiliate site sends to the merchant site, the number of people the affiliate site sends to the merchant site and clicks at least one of the product advertisements, or the number of visitors directed to the merchant site by the affiliate site and actually makes a purchase. The framework of the agreement is that the merchant pays according to the agreement the associate whenever his affiliate site brings site traffic or money to the merchant website. The recruitment of affiliates is not only a great way to sell products over the internet but it is also a great marketing strategy as it provides the merchant website a unique competitive advantage. Networking can be said to be one of the best and most effective ways to get your site famous online.
There are at least three parties in an affiliate program transaction:
1. The Customer
2. The Affiliate Site
3. The Merchant Site
The concept of having an affiliate program business which utilizes the World Wide Web as a marketing strategy was first announced to the public in 1996 by Amazon.com CEO and Founder Jeff Bezos. Amazon.com encourages affiliates to post links to the Amazon website in general or to specific books. Whenever someone clicks on the link and makes a purchase the affiliate who owns the link will receive a certain pre-agreed percentage of the earnings. All the affiliate need to do is to send traffic, and the rest is done by Amazon.com like order taking, money collection and product shipment. Amazon.com is not only the first affiliate program business; it is also on of the most successful with more than half a million affiliate websites.
Over the years affiliate programs have grown to epic proportions and have taken many different forms. Affiliate program businesses are now everywhere and they are found in almost every niche of the business world. Many companies specializing in e-commerce now function as merchants while those who do little or totally no e-commerce work as affiliates.
Affiliate Program Business Basic Payment Methods
There are three basic types of affiliate program payment arrangements:
1. Pay-Per-Sale (Cost-Per-Sale)
The pay-per-sale agreement has been popularized by the mother of affiliate program businesses Amazon.com. Under cost-per-sale the affiliate is earns commissions from the merchant each time he sends a customer to the merchant website and that customer makes an actual purchase. Amazon and many others pay a specific percentage of the sale as commission while others pay a fixed rate for every sale.
2. Pay-Per-Click (Cost-Per-Click)
Pay-Per-Click is considered by many as the most popular and common affiliate agreement. Under such agreement affiliates are paid fixed rates based on the number of visitors who click on the links placed on the affiliate website that lead to the merchant website. A purchase is not required to earn commissions, all that has to be done is that the visitor clicks the link and stays for a certain time usually at least 30 seconds on the merchant website. Whatever the visitor does once he gets to the merchant site does not affect the commission.
3. Pay-Per-Lead (Cost-Per-Lead)
Under the pay-per-lead arrangement affiliates are paid based of how many visitors they send to the merchant website and subsequently sign up as leads. Signing up as leads means that the visitors fill out the information request form at the merchant site. Leads are used as targets for conversion into customers or are simply sold to other companies which are in search of leads.
.
Affiliate Program Business Other Payment Methods
A company sets up an affiliate program based on its needs. Therefore, it is very usual for a company to have an affiliate agreement having some variations with the basic payment methods. There are also three common variations of affiliate program payment methods.
1. Two – tier programs
Affiliate program businesses that offer two-tier agreements profit through sales recruitment and commission sales hence thy have a structure similar to network marketing business or multilevel marketing organizations. In addition to the traditional commissions based on sales, clicks or leads facilitated by the affiliate's site, commissions based on the activity or productivity of referred affiliate sites are also received.
2. Residual Programs
Affiliates under this arrangement are continuously paid commissions if the visitors they get to go to the merchant website also continue to make purchases of products and services from the merchant. This king of arrangement is usually utilized by online merchants who require regular payments usually on a monthly basis from their customers.
3. Pay-Per-Impression (Cost-Per-Impression)
Online merchants who make use of this arrangement which is also sometimes referred to as pay-per-view pays commissions according to the number of visitors affiliates can cause to see the merchant's banner ad. Such arrangement has been developed as an advertising strategy but has now been adopted as an affiliate strategy.
The reduced risk is the biggest advantage of the payment methods utilized by affiliate program businesses because a merchant pays out commissions only when its desired results are met. Traditional advertising like television and radio ads as well as online banner ads are relatively risky on the part of the advertiser because they are like placing their money on a bet that the advertisements will be effective and achieve whatever they are suppose to achieve. The ad is considered as a success when it brings to the merchant more money than what was spent, but this is unfortunately not always the case. With affiliate programs on the other hand, the online merchant only pays out commissions when things are going the way he wants them. It is far easier for websites to join affiliate programs than it is for them to attract advertisers but much less risky for merchants.
Affiliate Program Business Administration
Affiliate programs are relatively simple and easy to manage, all they need is some dedication and patience because there should always be someone tracking the actual activity of all affiliate's links to be able to provide them proper commissions.
Common data an affiliate program business should always be aware of are as follows.
1. The number of people who click on the merchant site's link on an affiliate site
2. The number of people who end up buying something or performing some other predetermined action once the affiliate sends them to the merchant site.
3.  The number of people who see the merchant site's banner link on an affiliate site
4. The original arrangement between the merchant and each affiliate as well as changes if any.
Both merchant and affiliates need a lot of effort to enter the affiliate industry. Merchants need to actively seek and recruit affiliates while affiliates need to actively search for affiliate programs they might be interested in. Many huge and successful affiliate programs like Amazon.com even deal with their affiliates directly because the benefits they reap from their associates are more than worth direct administration. Such companies are in complete control of the payout process and the merchant is the sole entity that determines the amount of commission each affiliate will receive. In spite of this fact, these companies still attract a lot of associates due to the fact that there is no real risk or cost in their program. Affiliates simply put links up and wait for commissions.
Affiliate Program Business Networks
Affiliate networks composed of affiliate brokers serve as mediators between merchants and affiliate program websites and affiliates. They assist the associates put up the links in their websites and also track all the activity of these links as well as arrange all payments. Affiliate networks are also beneficial to merchants in the sense that they help recruit affiliates by including the merchant's website in their online affiliate program directory. Help centers and report centrals are the common features of affiliate networks though additional features may vary.
Affiliate networks are most beneficial to aspiring affiliates because through them a wide variety of affiliate programs become available in one central location making finding a good and suitable program that fits your site much easier. Affiliate networks of course, as payment for the convenience they serve take a certain cut on each transaction they facilitate which is usually around 20% of the affiliate commission.
Any type of website can involve itself into an affiliate program though most affiliate network service agreements forbid offensive and pornographic content. Successful affiliate program businesses though referred to as merchants do no even need to make sales to gain profits. Content based affiliate businesses in fact get most of their earnings from advertisers which where attracted into advertising on the merchant website because of the high volume of traffic its affiliates are sending to it; hence there is direct conversion of traffic into profit. Pay-per-click affiliate programs are one of the most efficient means of increasing traffic.
It can be said that there are as many kinds of affiliates as there are types of businesses. Generally, any website from top sites to personal pages can take part in an affiliate program, and with the correct choices can earn themselves some money. There also exist affiliate businesses which are just actually huge collections of many affiliate programs. These sites operate by joining a lot of pay-per-click or pay-per-lead advertisement programs and then offer their visitors a portion of the commission they receive on each click or offer them a chance to win big rewards.
Becoming an Affiliate Program Businessman
The first choice for anyone wanting to involve himself in affiliate programs is whether to be a merchant or an affiliate or both. Setting up an affiliate program and becoming an affiliate merchant is the best choice for those who operate an e-commerce site and desire to improve their sales. Becoming an affiliate of several merchants is the best choice on the other hand for people who own small content sites and run them only as a hobby. The choice is likely to be influenced by the budget and the element of affiliate programs what suites your website the most.
Join Cj.com or clickbank.com for affiliate commission.