Some Years ago blogging was just for entertainment and passion but Now Blogging convert to successful online business. Money making from blog is not so easy not tough. Many successful bloggers making more money from their blogs. Check out  Top 50 Earning Blogs 2012. If you have good traffic then you can make more money with blogging, No need to work just share your ideas in your blog. Share content in social network sites like facebook, twitter etc.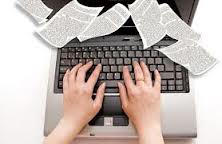 Also Read:
Many bloggers use adsense, adsense alternative, direct ads, text ads etc for earning. But Have you ever thought about sponsored reviews. Yes, You can also make money with sponsored reviews.  Essentially, sponsored reviews refer to personal reviews of a product, service, website, or business which are written by a blogger and published in his or her blog in exchange for a certain amount of compensation.
Writing sponsored reviews is one of the least time-consuming and most rewarding ways of earning serious cash from a blog. If you are a blogger or a website owner, don't miss out on this monetization technique.Sponsored reviews are great because they benefit both you and your client (advertiser).
Now, one common problem which bloggers faces: Finding the direct sponsored reviews, So here i'm going to tell you about Sponsored Review marketplace. So What is this Marketplace and how does it relate to making money online from home by writing reviews? Basically, a sponsored review site is a place wherein advertisers and bloggers are given the opportunity to find each other through the net.  An advertiser may significantly need the help of a blogger in order to spread some information about products, services, businesses or websites that he wants to promote online. The advertiser pays the blogger for writing and publishing posts about his product with links that will lead readers directly to the advertiser's product website.
One of the Best Sponsored Review Marketplace is https://www.sponsoredreviews.com Register Here and wait some time, If your site approve then you can find advertisers here easily. Define your site category and describe your site carefully. Add your price for per review. you will get 50% of review cost.

Note: Always remember, target advertiser who are related to your niche. Else you might loose the trust of your readers.