LifeStreet Media is a leader in global in-app advertising for Facebook, Apple (iOS) and Android developers. They use a system of CPM (Cost Per Mile), CPC (Cost Per Click). Believe the concentrate sharp and complete dedication to science and art in-app advertising, LifeStreet staff of extremely accomplished technique, ad ops, innovative, and a single teacher analysis focused on one clear mission: to provide the most productive in-app ads ever made.
LifeStreet Media was named by Inc. Magazine among the 500 fastest growing companies in the U. S., one of 50 companies the fastest growing advertising and marketing in the U. S., and one of the 25 quickest growing companies in the San Francisco Bay Area.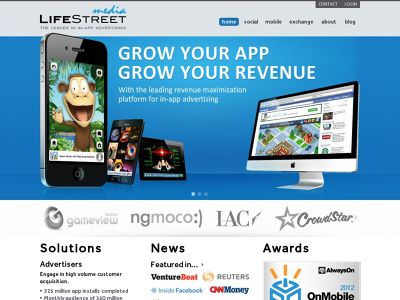 [su_button url="https://www.lifestreetmedia.com/" target="blank" size="8″]Join LifeStreet Media[/su_button]
I haven't used Lifestreet Media But one of our friend Rahul Patel is using Lifestreet Media. We ask to our friend about lifestreet media and he tell me everything to write review about lifestreet media with his payment proof. He receive payment many times from lifestreet to his paypal account. In The end of article we publish the snapshot of his payment proof.
Approval or Rejection
They do a little review of your site, but most are accepted. They don't accept  porn sites.
Life Street Media Review
Lifestreet Media Provide Two Typed of Ad. One for web developers and other for Apps Developer. Apps Developer generate for $$$ from this network.
If You are a web developer and want to monetize your site with lifestreet media. They give you $$$ from CPM and CPC Basis. Lifesteet media provide many types of ad tags. you can also get pop up ad tags here.
If You are a Apps Developer like facebook apps. You can generate more $$$ than web tags. You can also get many types of ad tags in apps developer page.
Payment Proof:
Here is the LifeStreet payment proof. We requested to rahul to give me snapshot of received payment. So Rahul mail me payment proof to publish here.
Payment Conditions:
Minimum payout: $10
Payments are made by net 30
Payment will be made via by Paypal and Wire
Check out this Lifestreet Payment Proof
LifeStreet Media Overview 
| | |
| --- | --- |
| Name | LifeStreet Media |
| Website | https://www.lifestreetmedia.com/ |
| Type of Network | CPC, CPM |
| Type of Ad | In App Advertising |
| Minimum payment | $10 |
| Payment Frequency: | Net 30 |
| Payment Method | PayPal, Wire |
Note: I highly recommend them if you have a high impression rate. If not then your CPM/RPM will be 0.02 which is shit. They pay on time all the time.  Another thing, if your account manager tells you to use 1 Tag for mutiple zones DON'T because the performance of that tag will drop. It's very important that you all know that if you don't have a lot of traffic/pageviews this agency will not generate enough $$$ for you.
[su_button url="https://www.lifestreetmedia.com/" target="blank" style="stroked" size="8″]Join LifeStreet Media[/su_button]