Have you ever encountered the hard drive failures, system crashes and invaded viruses in your daily and working life? It must be annoying if you deleted your Windows folders by accident, lost the important data due to the hard drive failures and the Windows operating system was unable to boot while your system crashed. We are working and living in the digital life, which is surrounding by computers and phones. Then the data loss could happen anywhere and anytime.
Overview of AOMEI Backupper
Owing to the ever-increasing amount and complicated commerce procedures, data threats from system glitches, security vulnerabilities, natural disasters and uncertain man-made catastrophes, more companies and users need reliable and professional backup software to protect their sensitive information and urgent workloads. Here we would like to show the easiest pc backup software AOMEI Backupper.
AOMEI Backupper offers a completely free secure backup solution for PC and laptop users based on the previous versions. Incorporating all the outstanding features in the past versions, the newly added event-triggered scheduling backups, which can perform backup tasks in real-time based on user logon, user logoff, system startup and system shutdown automatically and simultaneously choose multiple files on the network drive as the backup source. AS for the real-time sync could detect the changed and edited data and synchronize them automatically from the source to the target path with real-time.
Techniques that were once only available for IT experts are now available for everyone in AOMEI Backupper Standard version by simply mouse clicking several times. The Standard version is a helpful, no-cost solution that meets or exceeds all basic windows users.
AOMEI Backupper Setup and Interface
We have tested AOMEI Backupper Standard 4.0.4 on a Windows 7 desktop. Developed by the easiest backup service provider, the installation process and setup are so easy that new novice can deal with it quickly. Opened it with the desktop icon automatically created, you can enter the main interface. There are five main columns buttons. With single word for every button, everyone can understand the main functions. Every main features with brief descriptions, it helps to get know of them.
The Main Features of AOMEI Backupper 
System Backup: supports to make a backup of the whole operating system including the system reserve partition and settings;
Disk Backup: backup the whole disk to make a double insurance for the data on it;
Partition Backup: backup one or more partitions to keep important data safe;
File Backup: backup specific files or folders, and simultaneously multiple files on the network drive;
File Sync: manual or real time synchronize files and folders between two different places;
Dissimilar hardware restore: restore an image from one computer to another with different hardware;
Selective file restore: restore specific files back instead all of them to save time;
Flexible clone: clone disk to a smaller one or vice versa makes it easy to move data;
System Clone: directly migrate OS from HDD to SSD or HDD without unlocking;
Encrypt image: give a password to image file in case of unauthorized access;
Compress image: compress image to a smaller one to save storage space;
Email Notification: provide Hotmail server, Gmail server, AOMEI server [paid] and custom server [paid] SMTP modes;
Partition/volume clone: give an exact copy to basic partition or dynamic volume for data transfer.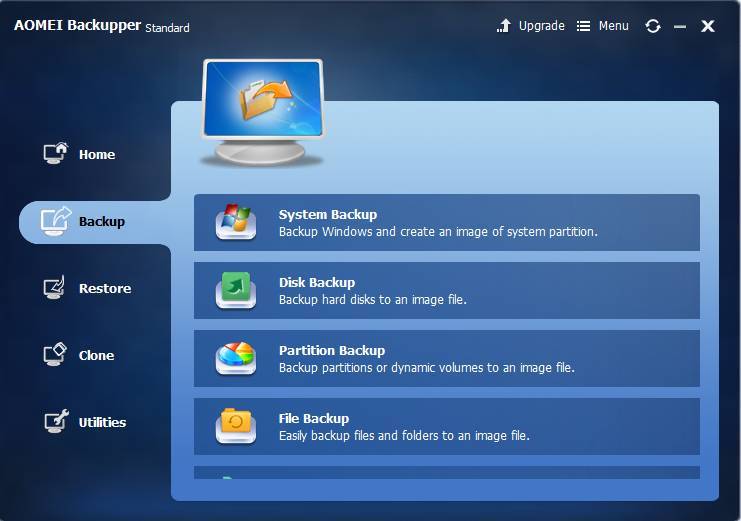 The Benefits of AOMEI Backupper
Easy: AOMEI Backupper provides the easiest backup and restore solution for Windows users to rescue system failure and data loss. Both novice and profession could find the most available features according to their demands.
Safe: AOMEI Backupper pays much attentions to the data security as well. The value is to protect data and system from all disasters
The Editions of AOMEI Backupper
AOMEI Backupper currently is available in five different editions which mainly differ in functionality and availability. Compare and choose the right edition based on OS and needs. AOMEI Backupper Standard is free backup software while AOMEI Backupper Professional contains all features of AOMEI Backupper and supports system/disk/files/partition backup & restore, file sync, and system clone as well as provides schedule backup, merge images, dynamic volumes backup, UEFI boot and GPT disk backup. Ideally suited for the medium and small business, AOMEI Backupper Technician supports Windows XP/Vista/7/8/8.1/10(all editions) and Microsoft Windows Server 2003 /2003
R2/2008/2008R2/2012/2012R2/Windows Home Server (WHS) 2011 and Windows Small Business Server (SBS) 2011.