An entrepreneur is a person who organizes, manages and assumes the risk of a business venture or idea for the sake of profits. Being a Entrepreneur is not easy. Not every 2nd person become Entrepreneur. you have to do hard work to become successful. The definition of success is different for everyone, We all need some inspiration from time to time. Everyone love to watch movies. Movies are a great way to learn from others as stories. So Here i'm going to share Top 10 Business Movies that will motivate and inspire every Entrepreneur.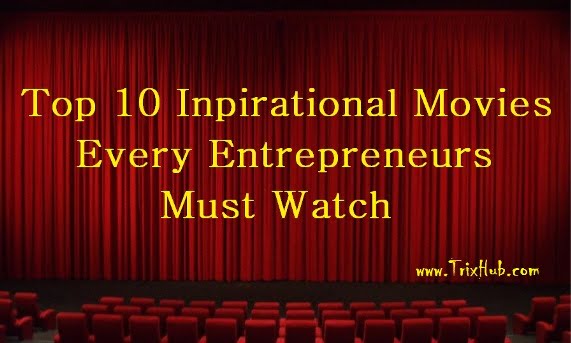 This was a made-for-TV movie released in 1999 that covers the early days of the country's leading technology hub and the eventual rise of both Bill Gates and Steve Jobs. 
Why watch it? Entrepreneurs are still looking for inspiration from these two iconic "pirates." It definitely provides pointers to learn from.
Best Quote: Good artists copy… Great artists steal.
It's based on a true story of the world's youngest billionaire – Mark Zuckerberg, the creator and owner of Facebook. everyone wanted to see how Mark Zuckerberg became transformed from a Harvard student to launching the most popular social-media network in the world.
Why watch it?  The film gives viewers a better understanding of how to make a startup succeed by exhibiting such qualities as being flexible and resilient.
Best Quote: You don't get to 500 million friends without making a few enemies
Startup.com is an excellent documentary on the internet gold rush of the late 1990′s. This documentary has all the necessary ingredients to learn a few great lessons on the internet bubble.
Why watch it? There are many takeaways from this documentary. For starters, it illustrates just how detrimental it can be when partners aren't on the same page. Another lesson learned is how to properly manage a budget after you've secured funding.
The Godfather is the story about the growth of a small family business as it becomes the largest organised crime family in New York, fighting off opposition at any expense. The Godfather and his son Michael Corleone are the brains behind the family and this film gives you an insight into what it takes to become one of the most powerful family businesses in the country.
Why watch it? For a moment, forget the fact that this is a movie about organized crime. Instead, learn how Michael Corleone (Al Pacino) took a small family business and transformed it into one of the most powerful and influential families in the country.
This Movie is Based on the true story of Chris Gardner. This is the most heartwarming and motivational films for entrepreneurs. This is the story of a man who believes so badly in a product that he can't sell that he ends up losing his house, his wife and his money, being left with just himself and his son. 
Why watch it? Even though he became homeless and struggled to provide for his son, Chris never gave up on his dream. That passion and sacrifice is something every entrepreneur should watch.
Based on the true story of Jordan Belfort, from his rise to a wealthy stock-broker living the high life to his fall involving crime, corruption and the federal government.
Best Quote: The only thing standing between you and your dream is the bullshit story you keep telling yourself as to why you can't achieve it.

A young and impatient stockbroker is willing to do anything to get to the top, including trading on illegal inside information taken through a ruthless and greedy corporate raider who takes the youth under his wing and explains his philosophy that "Greed is Good". 
What watch it? Don't sell yourself out just for the sake of money. Remember, being an entrepreneur isn't just about becoming rich and famous.
Best Quote: Every dream has its price.
This Movie more likely inspired by the original Wall Street. it shows the extremes people will go to to make a fortune.
After entering the stockbroking profession to impress his father, Seth Davis, a College dropout, soon realizes the huge earning potential ahead of him. But with commissions much larger than any other company, Seth soon learns that not everything is what it's cracked up to be and he's forced to face the dilemma of money and greed vs. morals and legality. For any young entrepreneur starting out in business, it's a very real possibility that you're going to face moral dilemmas and the way that they're dealt with in this film is very eye opening.
Why watch it? This Film Inspire the salesman in you and guide your business to profits. One of The Must Watch Movie.

Three company workers who hate their jobs and decide to rebel against their greedy boss. If you Want a move that will want you to get out of a desk job in the corporate world, then this movie is must watch for you.
Peter Gibbons is a man who can't help but be promoted as he consistently starts to slack off and do things his own way, but trouble starts to arise when his new careless nature starts to lead to him stealing from the company in a much bigger way than he expected.
A true story about Frank Abagnale Jr., a young conman who successfully impersonated an airline pilot, doctor, lawyer and history professor during his stint as fraudulent cheque casher. What's amazing about this film and the life of Frank Abegnale Jr. is how much he managed to achieve in a much tougher environment and under more stress than most people are used to. Whether it's legal or not, business is business and Frank was one of the best at what he did.
We hope these Motivational Movies inspire you to build your own empire. Now time to share this list to your facebook, twitter friends.