Hi Guys, Previous we reviewed the PopAds.net Pop-under ad network with payment proof. Today I'm going to review another pop-under ad network popcash.net. Popcash is a good alternative to PopAds.net.
PopCash.net is a popular PopUnder advertising network. It is most effective when any visitor enters a site that has installed PopCash.net Ad code will see the advertising immediately. Their payout rates are not fixed and are based on advertisers bidding process. 
Popcash uses a popunder ad scheme where the ads are shown in a new window underneath the current browser. The popunders are activated when you click anywhere on the site.
The good thing about PopCash is that they will limit the number of pop unders by one per day per session.
The company is pushing hard for adult content websites. I understand that the earnings are higher with adult websites. The downside is that your ads will be related to adult content as well. So if you're not in that niche, then you have option to disable adult content.
Popcash Income Report
Popcash pays by their impression. Their average CPM rate is $1.5 to $4. If your traffic come from 1st tier countries (United Kingdom, United States, Canada, etc) then you will get a high CPM rate. I have placed their ad code on my highest Indian traffic website, here is the screenshot of earning report.

Popcash Payment Options
When you reach $10, you can request to withdraw and you will receive your payment in the single working day. They pay every day to their publishers. Popcash Payment methods are Paypal, Payza, Paxum.
Popcash Payment Proof
I have received payment from Popcash many times. Here is the screenshot of popcash payment proof.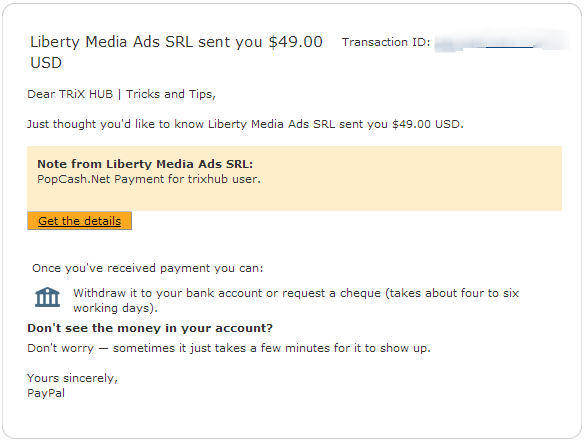 Popcash Transaction History
I received payment from popcash.net many times, and they paid me under 24 hours after requesting payments. Here I have attached a screenshot of popcash.net payment transaction history report.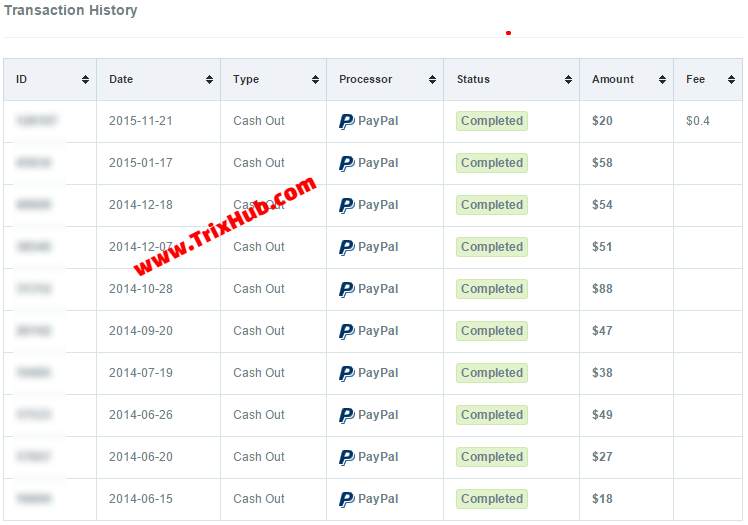 Popcash Revenue Share Rate
PopCash.net share 80% of total Revenue. Thats a good thing they charge only 20% of money earned from your site by using their ad network.
Popcash Pros:
Good eCPM rates

Minimum payout amount is $10

Real Time Stats

Accept all countries.

Adult website are also accepted.

Daily payments via Paypal
Popcash Cons:
Pop up blockers can reduce your revenue.
PopCash.Net Ad Network Details
Network Type:
CPM
Ad types:
POP under
Payment Methods:
Paypal
Minimum Payment Threshold:
$10
Payment frequency:
Daily
Conflict with other programs
and/or exclusivity:
None
Requirements / Restrictions:
None
Website URL
www.popcash.net
Ad Filling

80%

Payment

90%

Payment Options

100%