We bloggers often talk about social media to drive traffic to our blogs. But when we talk about social media marketing we often forget about LinkedIn, don't we? We think using LinkedIn for business might not be that potential as compared to other popular social media platforms.
We don't consider LinkedIn as a primary platform, but the thing is LinkedIn is one of the best platforms for internet marketers and bloggers to grow their business. Not only that, With over 400 million registered users in over 200 countries and territories, linked actually stands #1 for business marketing purpose.
According to HubSpot's survey, LinkedIn drives the most customer to B2B, So, it definitely defines how important LinkedIn is for your business.
Linkedin For Business
I think, from this little introduction you should have an idea about the power of LinkedIn for business.
And, if you want to leverage the power LinkedIn for business, then this guide might be a very useful for you. Not only, I'll teach you how to use LinkedIn but also explain the step by step guide from scratch to understand how Linked works.
A Detailed Step By Step Guide To Use Linkedin For Business
Start With Optimizing Your Personal LinkedIn Profile
Like any other social media network i.e, Facebook, Twitter, Pinterest & few others you need to begin by completing your personal profile. But, linked profile system is more of a business type.
If you look at LinkedIn users, you'll find that their profiles are highly optimized for business. So, you've to optimize your profile in a way that people can understand what your business is & how potential connection you could be for their business.
1. First Start Off With Your Name, Picture & Title
Like any others social media, you need to fill your name & upload your picture. That's pretty simple. But, make sure you don't use a fake name because here you are for business opportunities. We've to build a profile that looks professional.
For instance, take a look at my LinkedIn profile as an example. And, one thing to notice, make sure you use your own picture and a profession one. If you want to use those selfies, and actor images, then you going to miss those business opportunities you're actually looking for
Your LinkedIn Title is one of the most important element of your profile; is suitable, a 120-character sales' pitch. When you're logged in your account, you can type in anything apparently however it is not that effective.
Think for a second, what is your area of expertise or what business you're doing right now. Like, if you look at my profile I've classified myself as a Growth Hacker & Digital Marketer Strategist.
Be sure to incorporate your job title or position using keywords that will serve people find you, and consider incorporating the organization like, Growth Hacker & Digital Marketing Strategist at Chowdhury's Digital.
2. Completing Your Profile For Better Engagement
We are on LinkedIn for business opportunities, right? Therefore, you need to round out your profile for better engagement. The person who will send you an invitation will go through your profile, and he/she is most likely to check your full profile, like the summary
This is a general process just to assure that if the people they want to connect with is legitimate or just a spam profile. So, make sure you summarize your profile. In that particular section, you can define about yourself and your brand. You can link to your website. And, you can also include your personal milestones there.
Look at the picture I've attached below. I've highlighted the main elements that really impacts your whole profile is a better way.
3. Connecting With The People- Determining Your Audience
After completing the profile, the next step is to add the people you know on LinkedIn be it friends, family or the people you are working/worked with. You've two strategies to grow your connection on Linkedin, i.e.,
Connect With The People In The Same Industry.

Connect With All The Random Be It In Same Industry or Not.
Since our approach is using Linkedin for business, therefore, the first option sounds better, but that's not the case, though. The second strategy is better for using linked for business. Let me explain you how…
Even though if someone is not in the same industry then it doesn't mean they won't be in future or not interested in your industry.

Even though if someone is not in same industry it doesn't mean their connections are not. If you're connected to such connection chances are your profile will be suggested to their further connection that will give you extra exposure which is a good thing for your business.

The more connections you have, the more likely you're to show up in "most viewed" linked profile which will eventually grow your profile quickly.
In LinkedIn, when you send a request to connect with other users it asks you that how you know that person. So, While adding those unknown people (but from same industry) make sure you use a standard message, like:
Hello, I would like to add you to my professional network on LinkedIn.
Else, you can use a bit personal message that will give more results. I've attached the screenshot below to give you an idea what I'm talking about.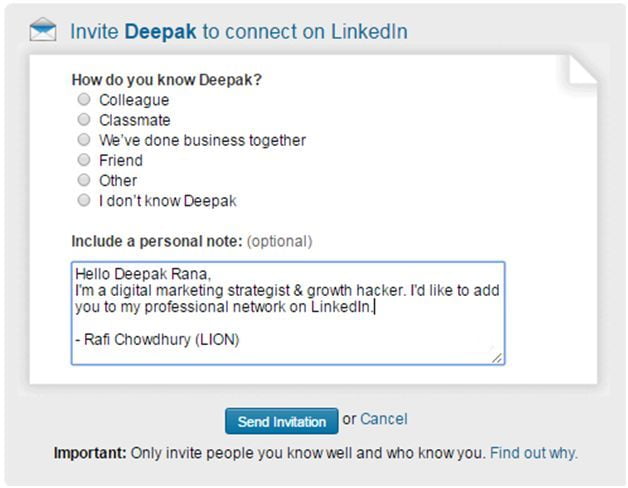 The more people you'll connect the more it help you to use linked for business opportunities. In the beginning, it will be a little hard to grow your connection but once you hit around 50 connections, you'll start getting "connect invitation" from people.
So, this way you will grow you profile that will help you meet the high classified people having a business mind which is a real good opportunity for you to take your business to the next level.
4. Join Relevant Groups To Promote Your Blog Posts
LinkedIn groups drive pretty good traffic as compared to Facebook groups. Like Facebook, you've to search for groups within your blogging niche, then send a request for approval.
Just select group option in a search box, then enter your keywords/topic that is related to your blog's niche. Here is a quick example from my search, I've searched for SEO since its relevant to my industry. You can search for nutrition, technology, and health depending on you niche or industry.
Build Trust In LinkedIn Groups
Before you just start posting your blog posts in the LinkedIn groups, kind of spamming, make sure you build trust in those groups. Build trust in groups & think how you can help the organization in any way. Here are the few ways to create credibility in groups.
Build a relationship with the LinkedIn group managers and gain their trust as well.

Participate in existing discussions that have various members engaged.

Like & Comment on posts of others so that they can also give you back in the same way.
What happens is when you earn trust and help group members you're more likely to become an authority there, and that gives you extra exposure. You'll get more engagement on your shared blog posts and most probably they will share on other social platforms as well.
Post Manually In Groups
People often use bots/tools to post automatically in the groups. Just imagine, what is the point of doing that? You just don't need those lucky clicks on your link by mistake.
Instead, you need new readers; you need followers who will help you to build the authority along the way.
If you're an intelligent marketer/blogger, people will not recognize that you are marketing to them. This indicates that whatsoever you publish to LinkedIn Groups needs to be helpful and related.
Tips For Getting Maximum Exposure in LinkedIn Groups
Post in relevant groups to get maximum targeted traffic.

Post your "Best Articles" only  because you need to focus on quality over quantity.

Do ask group members for their query & write on them it will give you an extra exposure.
5. Start Your Own Group
LinkedIn groups offer a lot of excellent networking & marketing opportunities. One of the ways to get even extra from the power of groups is to create your own LinkedIn group. First, you have to create a group, then have to add the right people to it consistently.
It takes time but it's a long-term thing that will help you to endorse your blog/brand & get in touch with influencers.
Creating LinkedIn group
It takes a few minutes to create a LinkedIn group. Begin by hovering over "interests" on your top menu, and then pick groups. Then, from the "my groups" button at the top, select "create group" from the drop-down menu.
Else, click this link to create a LinkedIn group. It'll redirect you to the page itself. Here is a screenshot of my LinkedIn profile.
Give a suitable name, description, and summary to the group and create it. Also, make sure that you post 2-3 articles on the group so that people who will join it don't feel it like an inactive group. Hence, they'll stay in the group without leaving it immediately.
6. Publish The Content On Your Profile: The Best Part About LinkedIn
One thing is pretty obvious that your LinkedIn audience will differ from other social media platforms. The Linkedin audience is highly-qualified, Linkedin users have the business approach that's what makes LinkedIn a standout platform for internet marketers/bloggers.
When you publish content on LinkedIn, it will be shown to anyone connected with you or follows you. It means that larger the connection you have, the more your article will be viewed. Hence, you'll get more leads, customers & readers.
Whenever you publish something people will be able to see your update in their notification bar. Here is an image from my notification bar. You can see, one of my followers published an article on "How to accelerate global expansion."
What is The Right Time To Publish The Content on LinkedIn?
Well, there is not much to worry about posting schedules, But still if you want to publish your content on the right time then try publishing between 5 PM to 6 PM. This is the time when the most numbers of LinkedIn users are available/Online.
Here is an image that you can use to leverage the power of social media platforms along LinkedIn.
Few Contents Will Convert Connections into Customers
There will be few connections who might be interested in what you're promoting. Yes, this is true. But, it depends upon the relevancy of the followers with your business.
Few people might don't need what you're selling because they really don't understand about your product is and how it could help them. So, in that case, content plays a major role.
You should highly focus on writing the articles that educate your audience and instead of telling them the features you should explain them the need for your service/article product.
7. Monitor The Activity on LinkedIn
Connections and Followers can like, comment, and share your content. Keep monitoring the activity on your posts and respond to the necessary questions. Shared posts reach a public ahead your own, therefore, use this as an opportunity to discover new connections.
And of course, do as you hope others will do for you – share, like, and comment on other people's posts as well. It's another tactic to engage with people with you. Leave insightful comments on their posts because their connections will be able to read it and if you influence them anyhow, then chances of getting new connections/followers will become high.
It's Your Turn
LinkedIn is the best social media platform for B2B (business-to-business) sales. Building a like-minded and relevant community on LinkedIn is all about connecting, and conversing. LinkedIn is an interactive platform that can be used to connect with business and industry professionals/influencers you may never have the chance to connect.
Using LinkedIn for business is a good step to take your business to the next level. You can use it get customers, or you can use it to get readers, depending on your goal. Not only that, Linked likes/comments/shares (engagement) is a sign of social signal which is an important ranking factor.
I don't think there is something too complicated in the strategy, however, it takes a lot of work and time.
Understand this, plan for it, and perform the strategy. It will make a tremendous variation in the extension of your business. If you've any question regarding using LinkedIn for business, then drop a comment, I'll reply you as soon as possible.
---
About Author
Rafi Chowdhury is the founder & CEO of Chowdhury's Digital, co-founder of myCampusHacks, and is an experienced digital marketing consultant based in Los Angeles, California. He helps companies in LA grow their revenue by directing targeted visitors to their websites.