Computer users search the Internet for multiple reasons. Some seek knowledge, and others scour the Web for entertainment. Site owners can profit by understanding what Internet surfers are looking for. For example, if you know that everyone is searching for "Product X," add "Product X" content to your site. Search engines will index the content and make it visible to Web surfers. Marketing experts refer to this process as search engine optimization.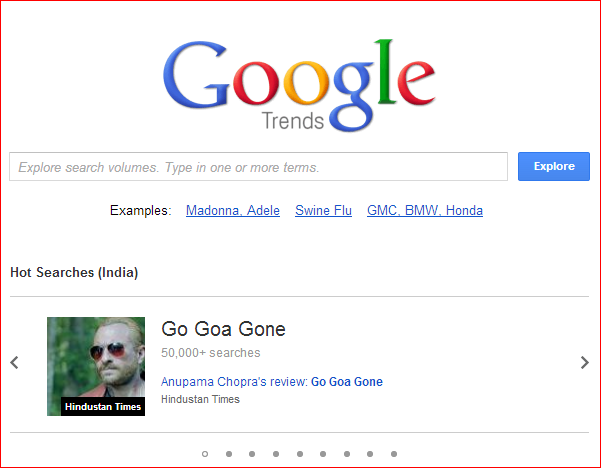 How to see what other people are searching for:
By Using Google Trends
Visit the Google Trends website. If you are from India then Open google trends here www.google.co.in/trends/

But if you are from other country then open google trends with your county extension.

Review the top 10 searches in the "Hot Topics" column. This shows what people are searching for by topic. The "Hot Searches" column shows the actual query terms that people are using to perform searches.
Enter a search query in the "Search Trends" text box, and click "Search Trends." A new page will open. The page contains columns for "Regions," "Cities" and "Languages." Each column contains 10 items. For example, the "Regions" column may contain "United Kingdom," "India" and "Australia." A blue bar appears next to each item in the column. This bar shows how popular your search query is for the adjacent region, city or language.
Click "Export this page as a CSV file" if you want to save the results in a comma delimited file. Then, click "CSV with relative scaling" or "CSV with fixed scaling" to save the file.
By Using Yahoo! Buzz
Visit the Yahoo! Buzz website.

Review the results in the "Top Overall Searches" table. This table shows the most popular current searches and their rankings. The "Leaders" column of the table shows the search queries that have the most activity. The "Movers" column shows the search queries that are moving the fastest toward the top of the chart.
Click one of the "My Y!" buttons to add the search results to your "My Yahoo" account if you have one.
By Using Search.com
Visit the Search.com website.

Review the most popular current searches in the table. The table shows 50 results at a time.
Click the "51-100" link to see the next 50 results. Continue to page through the results by clicking the other links such as "101-150" and "151-200."