No doubt Google Chrome is the most popular web browser. It is faster and more secure than any other web browser available in market. I also personally like Google Chrome. Mozilla Firefox is also a nice browser but have some speed issues. I found Google Chrome perfect for me. But, Chrome has a one problem that you may also feel. Its RAM hogging. Although, Google Chrome is lightweight browser but whenever I open many tabs on chrome, it consumes too much RAM on the system and makes it unresponsive. If your Chrome browser is unresponsive, then RAM may be a issue.
Also Read: How to download every link from a web page in Chrome
The more extensions you have installed, more RAM it will consume. But there is one Chrome extension that can solve this issue. This extension is called OneTab. It converts all tabs into list and save RAM. After installation, Onetab adds a funnel icon in omnibar. Clicking on this icon will save all your open tabs into a list and makes it a single tab.
Download OneTab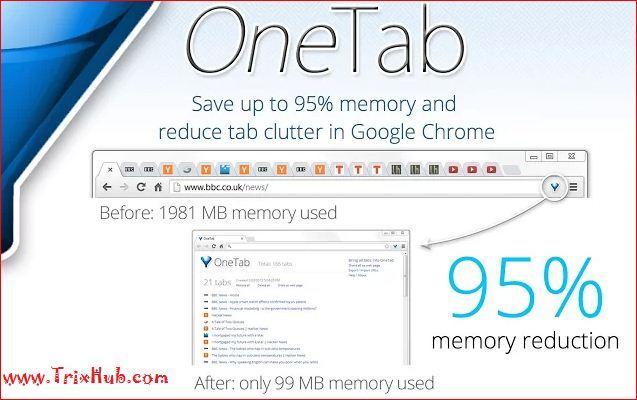 This is really an awesome extensions for those who always use multiple tabs for web browsing. If you face Chrome issue due to RAM usage, this extension is a perfect choice.