Hello Guys,
Today here, I'm sharing some best android apps source codes where your users can earn real money as well as you earn easily. You can build your money-making apps with these Reward Android App source codes easily. you get full documentation to build an android app. You just have to run source code on an android studio and make some changes to codes, and your app will be ready to publish.
Best Reward Android App Codes
1. Premium Rewards App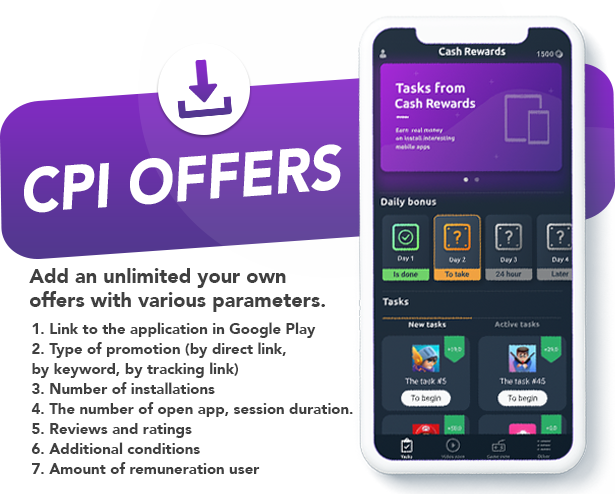 Premium Rewards App – CPI Offers System & Rewards App & HTML5 Mini Games is the brand new reward android app. It's a performance marketing and promotion software for android apps in Google Play Store.
You can also promote your other games and apps using custom CPI offers system. app can generate many installs by direct link or keywords. It is very simple, for this you need to add your own offers them via the admin panel and specify the necessary parameters to promote you app.
Advertising networks Support: Admob, AdColony, Fyber, OfferToro, TapJoy, Pollfish
Main Features:
CPI offers system
Reviews and ratings
Anti-fraud system
Referral program
Daily bonuses
Quizzes and mini-games
Redeem money- User can withdraw their earned money from their choosen wallet. PayPal, Steam, Tele2, Megafon, WoT, Warface, VK etc
Gamification, 5 levels, rewards for the action and achievement of the user
Advanced admin panel where you can manage everything.
Push notification system
Custom bonus promo codes (For advertising campaigns and partners)
Price: $199
2. Mintly – Advanced Multi Gaming Rewards App
Mintly is Advanced Multi-Gaming Rewards app that contains both Games and Offerwalls which will help you to monetize your app while entertaining.
It has a powerful Admin Panel and supports multiple games, All added by the admin panel. Mintly support Quiz, Image Puzzle, Word Guessing, Jigsaw Puzzle, Scratcher, Lotto, Spin Wheel, Slot games. All of them are hack proof.
Mintly support multiple offerwall, other thanSDK and custom offerwall, it also support YouTube ad Web offerwalls along with Rewarded Video offers.
Price: $199
3. Reward Point – Html Games + Custom Offerwall
Reward Point is a best app for users who want to earn cash. there are many option for earn cash. users can earn cash via downloading app, watching videos, reading article, playing games, spin and also inviting friends.
Users also can Promote Their App,Video,Website links.
Price: $199
4. Qearner – Quiz App with Earning System + Admin Panel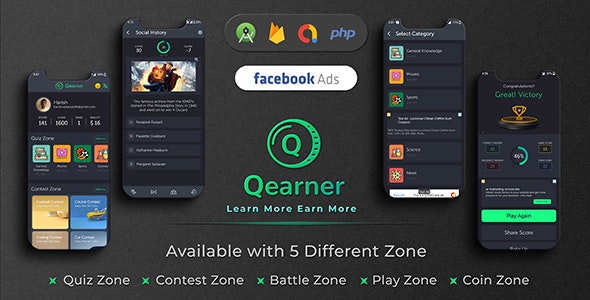 Qearner Android app is a powerful source code with earning system, users can earn money by playing quizzes.
It has powerful admin panel to control everything easily, and best part of this code, you can get timely updates with new features.
Price: $39
5. Video/Image/Gif/Quote App With Earning system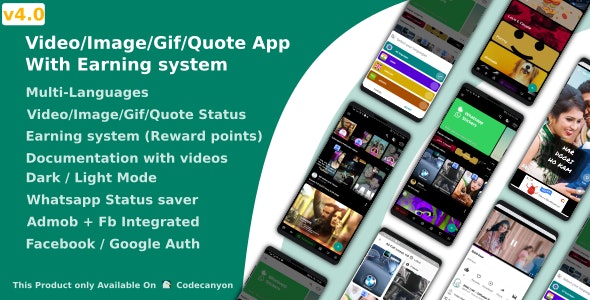 Video/Image/Gif/Quote App With Earning sytem (Reward points) is a mobile Status system which run under Android platform that used for your own Status application. With powerful features and beautiful design and Responsive, Admin Panel can manage Videos, Images, Gifs, Quote, categories, users, notifications,languages, Earning Payments and others. This application created by Android studio for client-side and then Php/MySQL for Admin side. It is one of the best user based post publishing reward android app code.
FEATURES:
User Can Post Own Status : Video / Gif / Image / Quote
Invite users and earn money by using reference code
Earning system: by share, watch, upload status
AdMob and Facebook Ads
Subscription to delete Ads
Ask to rate the app when exiting
User earning system
Easy to set up and use PHP admin panel
Price: $35
6. MintReward
Have your own reward app without any 3rd party conversion tracker. This app has a built-in installation conversion tracking system. Moreover, you can integrate/inject your Android Studio or Unity game into this app.
Integrated Ad Networks: AdColony, AdGateMedia, AdMob, AdWorkMedia, Applovin, AyetStudios, Chartboost, CPAGrip, CPALead, Fyber, IronSrc, Mgcash, OfferToro, OGAds, Personaly, SuperRewards, TapJoy, Vungle
Features:
18 third-party ad networks and Own Offerwall
Facebook, Google and Custom login / registration
New referral link system
Two types of crediting (points & coins)
Three types of exchange (Coin, by gift cards, coin to point exchange)
Daily check-in reward
Admin can add reward or give penalty by points
Remotely block rooted device to protect your games from hack tools
Remotely block or monitor VPN connection to prevent fraud leads
Price: $159
7. Guess Image Quiz with Earning System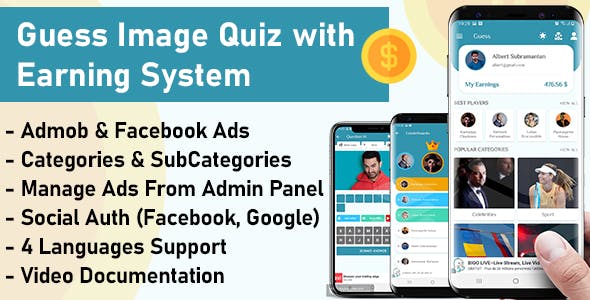 Guess Image Quiz with Earning system is an android Application that allows to users to play (guess images answer), collect rewards points & request withdrawal if they achieve the minimum withdraw amount fixed by app manager (You)! Users can also collect rewards points by inviting their friends to register to this app by referral system (referral code).
Features:
Splash Screen
OneSignal Notifications
Admob and Facebook Audience Network Ads (Banner, Native, Interstitial, Video Rewards)
Unlimited Categories & Subcategories
Daily reward coins (every 24h)
Referral System
And many more
Price: $32
8. BattleMania – Tournament App
Organize your own tournaments for eSport games such as PUBG, Free Fire, COD, PUBG Lite, Fortnite and more.
BattleMania is new way to build your own eSport tournaments. Package included with Native android mobile application, Website and Admin panel. So add games and create unlimited tournaments/matches. Enjoy!
Features:
Multi games supports
Refer & Earn system
Upcoming match/tournament
Ongoing match/tournament
User can join full squad or duo.
All matches/tournaments's results are showing clearly to all users.
Account settings
Leaderboard
Player's wallet screen (add money, withdraw money, All transactions details)
Push Notifications by OneSignal
Secure paymet method, Paytm / Paypal / PayStack / Offline / Instamojo / Razorpay / Cashfree
Everything easily controlled by Admin Panel.
Price: $179
Battle Mania also available with their web Version. in this user also can log in and book slots via the website. You can also Get the Web version
9. Play tournament – Biggest multi vendor eSports platform
Play Tournament is a multi vendor eSports tournament application where admin and vendors can post tournaments, publisht result and users can earn real money.
Admin can create any number of vendors that can post matches, promote their channel to subscribe more, user can rate and review channels, view their contact information.
It has biggest tournament features available. you can host any type of battle games in this.
---
we hope these reward app source code help you to build your money making android app.