YouTube is one of the most visited video sharing platforms for internet users where millions of users visit everyday to watch or share their interested videos. If you are also running any youtube channel, you can Make Money with YouTube Ads. Read for more info to Make Money With Youtube Videos. You will Earn Extra Money with YouTube videos.
If your Google Adsense account is already approved, you can easily Monetize Youtube Videos. Here i'm going to show complete step by step guide to monetize your videos.
#1. First login to your Youtube account.
#2. Now go to Youtube Account Monetization.  (If you have't setup your adsense account. then first setup your adsense account.)
#3. Here you click on Enable My Account.
#4. Accept their TOS, Policies etc.
#5. After enabling your account for monetization. Go to Video Manager.
#6.  Select videos (which you want to monetize). and click on Action.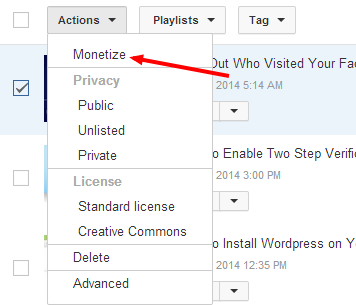 #7. Now click on Monetize. a popup will open.
#8. Here Monetize selected Videos.
You successfully monetized your videos. in a few seconds you will see ads on your videos.  Hope you will like to read How to Monetize Your YouTube Videos.