Content marketers run multiples of social accounts. Every time we publish a post, we need to share into many social networks. But it takes to much time to share one by one all accounts. Managing many accounts is a difficult task. So today we are here to share a good service HootSuite that help you to maintain all your social networks in same time and publish links or posts like a pro. You will save your time because your things done easily without taking too much time. You can also schedule your post.
About HootSuite:
HootSuite is a powerful tool to manage your social networks very easily and effective way. Many big companies using HootSuite. This time HotSuite has 10 million+ satisfied users.
"HootSuite is an essential tool for managing social networks by allowing teams to efficiently track conversations and measure campaign results." Says Pete Cashmore, CEO, Mashable
What You Can DO With HotSuite:
You can do lots of things with Hotsuite. Here are few things that help you to understand.
Manage multiple social networks
Schedule messages and tweets
Track brand mentions
Analyze social media traffic
Easily share links to your social accounts with their browser extension.
You can add stream for everything like new feed, event, schedule, follower, likes, mentions, RT.
You can also track keywords.
And much more (Start Using and see the power of Hotsuite)
How To Start With Hotsuite:
If you amazed about power of HootSuite. Then the next thing is to join HootSuite. You can follow bellow steps.
First go to HootSuite website by clicking here.
Now you can login with your Facebook, Twitter or Google account. Or you can create account with Email.
Now the Next thing you have add your social networks.
Now proceed to continue and land on HootSuite dashboard.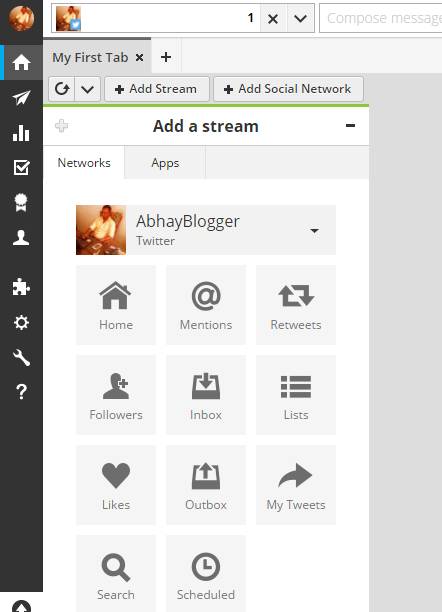 You Can easily customize your newsfeed by adding your social profile streams.
You can Add new profile by clicking one new tab + button.
See Analytics from left side menu. But First you need to create first report.
You can add up to 3 social network in free plan.
Free plan in only for 30 days. but you can upgrade to pro any time.
You can Also install crome extensition to shedule and share post easily.
Quickly share web pages to all of your social networks using the
HootSuite Hootlet chrome extension.
The Hootlet extends the power of HootSuite using your Chrome browser. Share content directly from any web page across multiple social networks, without ever leaving the page. The Hootlet automatically takes content you want to share and turns it into a message, ready to go. Plus, with one click, you can schedule and AutoSchedule your posts to ensure your links are shared at optimal times.
Tags: Best Social Media Management Tools, Social Media Tools for Business, Social Media Marketing Tool, Social Media Networking Tools