CPM advertising networks behave pretty much as PPC networks, except that you get paid according to the number of impressions (i.e., page views) that the ads displayed on your site will generate. CPM stands for Cost per Mille, and it refers to the cost for 1,000  impressions. A blog that generates 100,000 page views monthly displaying an advertising banner with a $1 CPM, therefore, will earn $100 monthly. CPM rates vary with the network, the position of the ad and the format. The better the network, the higher the CPM rate (because they have access to more advertisers). The closer you put the ad to the top of the page, the higher the CPM. The bigger the format (in terms of pixels), the higher the CPM.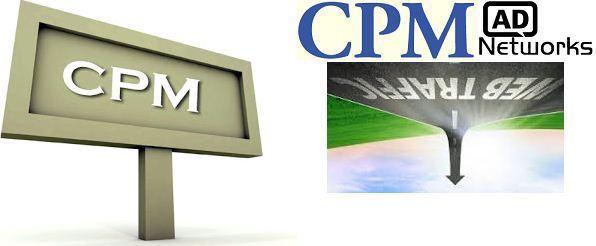 You can get as low as $0.10 and as high as $10 per 1,000 impressions (more in some special cases). CPM Advertising Networks tends to work well on websites with a high page views per visitor ratio (e.g., online forums, magazines, freebies downloading and so on).
Here We Colleted some Top CPM Ad Networks for Publishers. All these are Highest Paying Ad Network. 
List of popular CPM advertising networks:
Tribal Fusion is probably the Best CPM Advertising networks available in the market right now. Tribal Fusion has many most respected marketers which ensures you to pay very high upon CPM-based advertisements. Tribal Fusion accept only websites which has minimum half millions unique visitor per month, A professional and attractive site design, high quality content which is being updated on regular basis. If you can meet all these requirements, You will get good CPM rates.
Tribal Fusion shares 55% of total ads revenue. Payment is done via check and minimum payout is $50.
#2. Conversant (formerly ValueClick)
Conversant is also one of the oldest and most respectable ad networks around. They offer all standard ad formats and their rates are competitive. Payments are always on time, on every 20thof the month on your bank account. Requirements to join the network are quite high, but they are not as picky as Tribal Fusion. However, their traffic requirements are very low as they only require 3000 monthly page views.
Payment methods and terms: Wire transfer (no fees); NET30, minimum €25
BuySellAds is a form of a marketplace which allows you to sell your adspace directly to potential advertisers. ads are based on CPM. Getting approval to the website is very tough and you can only think of getting approved when you have impressive Alexa Rank, social media fans and minimum of 50,000 page views per month. This platform is very popular among advertisers, because they can hand pick websites where they want their ads to appear.
Payment methods and terms: PayPal, Check, Wire transfer (minimum $500, $35 fee); NET1 (daily), minimum $10

#4. Technorati Media
Technorati is best known as a blog search engine and directory. In addition to their main business, they also run a great advertising network. It offers very high CPM rates in comparison to many other listed CPM networks. Signing up is easy, but the approval can take few days since they review all websites manually. Approval based on several factors like Visitors, Page Views, Ranking etc.
Minimum payout is $50 and payment is done via PayPal.
>>>Join Technorati Media<<<
#5. CPXi (CPX interactive)
CPX Interactive is another good CPM ads netowrks. Although it is CPM-based ad network but it also offers CPC (Cost per Click) and CPA (Cost-Per-Action) advertisements. Getting approved for the network is tough. However, the minimum requirements to get approved is, publisher must have a reputed website with high-quality content and with a minimum of 30,000 visitors per month.
Minimum payout is $100 and payment is done via check.
Ad4Game is a Internet's game Best CPM Ad network which provides game advertising online, in-game ads, RPG advertising, CPC game advertising. If you have website that have content related to a games, Then This ad network improve your website revenue.
There is no minimum payout, payment is done monthly via PayPal.
Gloadmarket is the market leader in performance based online display advertising, Its a Best CPM for Publishers works on every sites. All websites accepted, After account creation you can create ad tags and display ads on your site. 
Payment threshold is $1. Paid via paypal, bank transfer and payza.
This ad network is specialized in popunder advertising. PopCash accept publishers from all over the world and offer ads for all countries. PopCash pays high rates and dont disturb your visitors,no need to click on ad,ad will automatically open in side window,and you will get paid. PopCash limits pop-ups to one for one user session.
They offer daily payout. Minimum threshold is $10 and pays via paypal,payxum,payza.
Propeller Ads is running one of the best and fast-growing ad platforms. Propeller Ads gives the opportunity to publishers to increase their Website's daily earnings with a nice and high CPM Rates. Propellerads support banner advertisement and pop under(onclick) Ads. Works good for freebies Downloading Sites.
Minimum Payout is $50. Pays via paypal.
Owned by AOL networks, Advertising is a very trusted CPM ads network. It offers a very competitive CPM rates. Although publishers are not provided rights to choose the type of advertisements but Advertising always serves relevance ads which matches to your site.
Their Minimum payout is $25.

#11. Burst Media
Burst Media gives you high CPMs, quality campaigns, and full control of which ads run on your site. But they accept only  high quality website with unique content. website /blog should be frequently updated.
Minumum payout is $50, Pays monthly via PayPal, Check, EFT.
>>>Join burst Media<<<
#12. Edomz
Edomz is the Best CPM(Cost per mile) network, This Ad network works well for garnering good revenue if your visitor traffic is mostly from UK, US and other developed countries. It is good for Asian visitors as well. Without giving any extra effort you'll simply start earning $3-10 for every 1000 unique views. 
Easy Sign up process but website are manually reviewed before approval. Minimum payment $5. Pays daily via Paypal, Payza.
>>>Join Edomz<<<
Epom advertising network is best suited for any type of website and you can convert any type of traffic. It provides display, video and mobile ads. Publishers can easily add/delete custom multiple placements. You can do experiments to get higher eCPM and higher CTR. Epom offer In-time payments (once per month). Real-time statistics, Good Customer Support. They Accept websites which has impressions more than 500 000.
$100 Minimum payout, Pay Via Check and Paypal.
These are the top best CPM advertising networks. you can signup any of these CPM Sites and start earning from your blog.
If you like this post share this to your friends.