Google chrome is the one of the most popular browser in the world. When we browse in different sites we save our important web address as bookmarks. Now Imagine that you've lost or accidentally deleted your important bookmarks, Or going to Uninstall your browser for some reason but want bookmark backup before uninstalling. Today we going to format my laptop for some reason and in my browser many important bookmarks added, So we checked to backup all bookmarks. We found 3 Ways to backup crome bookmarks. Here we going to share all of them.
Also Read:
Find Out Which Browser Add-Ons Slowing Down Your Browser
How to Block any Website in Google Chrome without any Extension
12 Cool Android Apps to Edit Videos Easily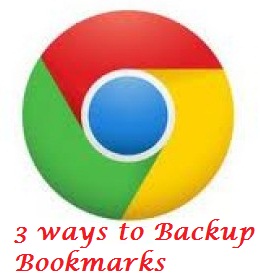 1st Method:
You can easily backup your bookmarks and profile by Doing first method. its so simple.
First Click on Crome wrench icon and Click on Sign in To Google.
Now Sign in to google account by entering your gmail usename and password.
Thats it, Now your all crome data synchronizing.  To Check status go to Setting> Google Dashboard.
To set what to sync click on Advance sync settings.

2nd Method: 
You can also backup and restore your bookmarks by exporting and importing a html file.
Right Click on Bookmark Area and go to bookmark Manager.
Click on Organize and Select Export bookmarks to html file.
To restore your bokmarks go to Bookmark Manager>Organize>Import bookmarks from html file and open the file which you saved as html.
3rd Method:
This is the most interesting way to backup and restore your google chrome bookmarks and profile.To do this you do not need to do anything to back up.Actually Crome bookmark automatically save your bookmarks in their install folder. To restore backup you have to find the backup file.
You can find the backup file here :
[For Xp User] C:\Documents and Settings\<your name>\Local Settings\Application Data\Google\Chrome\User Data\Default
[For Windows 7 Users] C:\Users\Administrator\AppData\Local\Google\Chrome\User Data\Default
[For Windows Vista Users] C:\Users\Administrator\Local Settings\Application Data\Google\Chrome\User Data\Default
After reacing the folder you will find two file like "bookmarks" and "bookmarks.bak".
For restore bookmarks just rename the "bookmarks.bak" to "bookmarks" and replace by clicking "yes".Now open your web browser you will find all your bookmarks in right place.
So No Problem If you Lose Your Bookmarks Before Backup.
Share With your Friends and give your feedback. Thanks for Reading.