Do You want to make money online? If Yes then this article really help you to make money with Fiverr by doing easy micro jobs. In this guide i will show you How to Use Fiverr to make unlimited money.
Fiverr is a global online marketplace offering tasks and services, at a cost of $5.00 per job performed. They call it GIG, so when you are buying anything from Fiverr then in their technical term you are buying GIGS. 
Fiverr is an one of the largest freelancing websites where users can use fiverr to Make Money From Home by completing short online freelance project such as social media jobs, email marketing jobs, content writing, advertising jobs etc. Users can register an account for free on Fiverr. 
[su_button url="https://www.itechcube.com/proceed/fiverr/" target="blank" style="stroked" background="#1822df" color="#ffffff" size="9″ center="yes" radius="round" icon="icon: paper-plane-o" icon_color="#6dec3e" rel="nofollow"]Register an account for free on Fiverr. [/su_button]
Recommended: Top 5 Fiverr Alternatives to Buy & Sell Services Online
There are thousands of well trained and talented persons regularly joining this freelance marketplace to make extra cash. Most of people are from USA, Canada, France, Germany, China and India.
How You can Make Money With Fiverr:
Fiverr is free to Join and you can list your service at $5. They will keep $1 from every gig which you will sell via Fiverr, in simple we can say; they are keeping $1 as commission and you receive $4 for every sell. 
You can sell any service in Fiverr like logo designing, website promotion, social media work, seo work, video editing, banner creation,  anything you want.
If you want to make money through Fiverr, you should think about the things that are unique to you. Think of something that you're really good at, something unique to you, and apply this thing to your GIGs.
First Join The Fiverr for FREE
After creating Account on Fiverr. Click on  Start Selling Menu on Top.
Now Click on Create a GIG. and in next page fill all fields about your gig.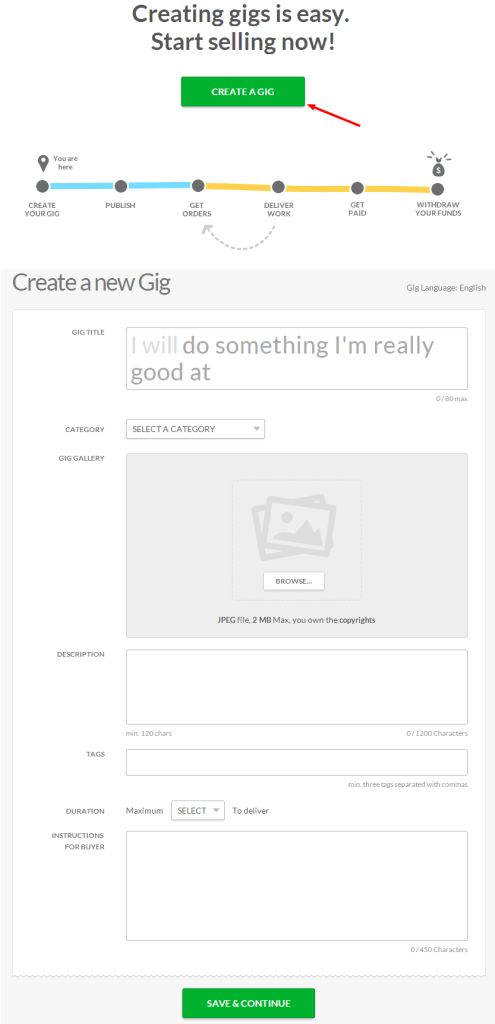 In next step, Fiverr ask you to upload video (By uploading Video you get more sells). You can upload or skip this step.
Now Publish your GIG and get buyers.
Now your Gig is live. Now you can also Create another one.
[su_button url="https://www.itechcube.com/proceed/fiverr/" target="blank" style="stroked" background="#676ee7″ color="#ffffff" size="9″ center="yes" radius="round" icon="icon: paper-plane-o" icon_color="#f4b879″ desc="Register Now" rel="nofollow"]Start Making Money With Fiverr [/su_button]
We hope you liked this guide to make money with fiverr. After creating account on Fiverr you must read our another fiverr article How to Sell on Fiverr: Pro Tips to Sell Services
SEO Tags: Other Sites Like Fiverr,  Fiverr Type Sites, How to Make Money Online, How to Make Money Legally, Free Ways to Make Money, Sites Like Freelancer, Freelance Work Online