Web World goes more popular day by day. Every Person using internet to search anything. Every organizations making their website for online presence. So In this age of technology, Everyone need to buy domain name for personal or business purpose.
A domain name is the thing like trixhub.com or androidhunk.com. If you intend to create a website, Then first thing you will need to know how to register domain name.
Recommended: Tips to Remember When Going to Buy a Domain Name
Importance of a Domain Name
There are a number of good reasons to register domain name.
If you are a business, a domain name gives you credibility. Few people will be willing to do business with a company that does not have its own domain name(Website).
If you buy domain name that describes your company's business or name, people can remember the name easily and can return to your site.
You can start your own online business with domain name. Like Freelance portfolio site or blogging with any topics.
Once you register any domain name, you will become domain owner and in future you can sell your domain at any cost of your choice. See the list of Top 10 Most Expensive Domain Names Sales Ever
How to Buy Domain Name From Godaddy( Step by Step Guide)
There are many Domain Names Registrar available. Some Best are Namecheap, Bigrock, GoDaddy etc. I prefer Godaddy domain and also recommend you Godaddy. So Here i am going to tell you easy step by step guide to buying a domain name from godaddy.  Bellow Video Guide also available.
1). First you click here to open Godaddy.
2). Search Domain Name Availability. I recommend .com. If .com not available then you prefer .net or .org  or your country level domain.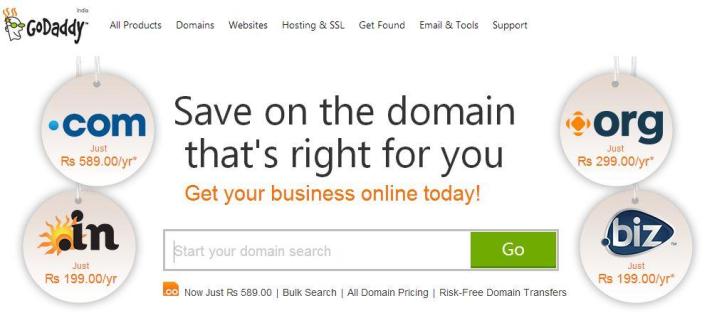 3). If Domain Available then Add to cart. And go to your cart.
4). Select year of your domain and if you want other godaddy services you can also add or ignore all.
5). Now Proceed to Checkout.
6). If You are new customer of godaddy then signup with valid email account or Login.
7). Fill some information about yourself.
8). Select payment Method. and complete your purchase.
9). After successful payment, you will receive few emails about your purchase.
10). Thats it. You will check your Domain Name Registration Information on www.whois.com
Watch Video For Easy Guidance
If you want to Buy Domain Name Already Taken then check on sedo.com or Go Daddy Domain Auction for premium domain name.
Hope you liked this post to register domain name. Share your love by sharing this post with your friends.