Web Hosting Companies Often overlooked, web hosting is one of the key features in running a website. Know more about web hosting by clicking here.There are numerous type of web hosts that are available: Free, Shared, VPS, Dedicated servers, and managed CMS hosting. Sometimes the wrong decision can come back to haunt you in the future. In this guide, we will cover Some things to consider when choosing a Web Hosting Provider, and share with you a list of Recommended Top Web Hosting Companies.
Also Read: Easy-tips-to-remember-while-buying-a-domain-name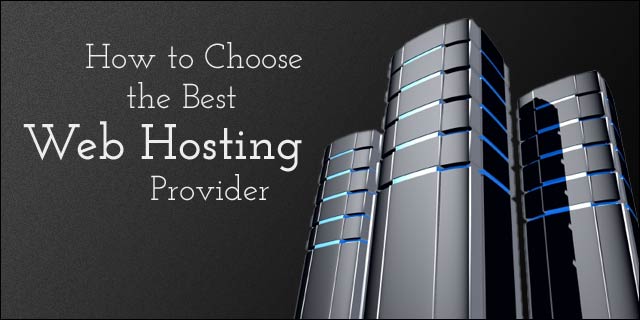 Things to Consider When Choosing a
Web Hosting Provider
#1. Security
Web Hosting Security is the very serious thing to remember while signing up to a web host. You do not want to risk a hacker getting into your website via back door (the server). Most services are going to brag (in some way) about their server security. If your web hosting provider is not hardened from security perspective, your site may get hacked very frequently. And its very difficult to clean a hacked website completely. This can cause serious issues with your website including getting banned by search engines like Google.
#2. Bandwidth/Disk space
This is a little tricky since most of the major shared hosting providers promise "unlimited" bandwidth and disk space. Have you ever imagined of a disk with unlimited space? To be clear, anyway, your website doesn't really need that much space. Unless you are starting Multiples of site or a big site like news site, videos, photos gallery sites, your site will probably never come close to 1GB of disk usage. Your main concern should be bandwidth – which, unfortunately, is "unlimited." However, since the top providers won't reveal how much bandwidth your website is allotted, you can always ask customer support to clarify this to you.
#3. Support
Support from web hosting provider always tops the list of features that customers are looking for. Always check 24×7 support before signing up. Read Customers reviews on forums to know better. That's because when your website runs into a technical issue, you want to be sure that the technical support staff will be there to help and resolve it quickly.
#4. Reliability
A web host with frequent downtime can only hurt your business. Also, if search engine bots and spiders can't access your website due to the downtime, they may remove your website from the search index. And it may be very difficult to get the rankings back.
#5. Speed
A faster website not only improves user experience, its also a ranking factor in search engine rankings. All other things being equal, a faster website will rank better in Google then a slower website.
#6. Customer Reviews
Today's It's a lot harder to trust web hosting reviews, Since most websites that show up on the first page of Google are likely sponsored. Not to say that all review sites are sponsored, but you should watch out for those that seem to consistently rate one particular company as the best in shared hosting, VPS hosting, dedicated hosting etc. In the end, you want to read balanced reviews and be able to pick a web host with the minimal reliability and support issues.
#8. Email Features
How main email addresses are you allowed to have? Does the host provide auto responders, mail forwarding and protocols like POP3? Also check out if the host provides spam protection features and support if you run into problems. Email-associated features are pretty much standard across many hosting companies, so this shouldn't be much of a issue. But you might still want to check just to be sure.
#9. Add-ons
A good web hosting service is n't just space, bandwidth and email. The truth is that many of them try to appear as attractive as it can get with an endless list of add-ons. But what makes a hosting company different? Maybe a reputation for uptime, enhanced security and data back up features? A company could list countless features but not provide basic data backups. Others offer free domain privacy, while others charge for that. Find a company that offers add-ons that you'll find important.
#10. Price
We've all probably fallen in cheap web hosts that promise everything that every other reputable host does. That is not to say that low prices are an indicator of poor quality services; but in general, a ridiculously cheap hosting plan is probably not as reliable as you'd hope. Price still remains a serious consideration, but don't forget to also consider what value you'll be getting for your money. Take your time to compare the various offerings of different companies, their customer reviews, support system etc. before you finally compare the prices.
Recommended Best Website Hosting Providers:
HostGator hosts over 8 million domains and is known as one of the well-reputed web host in the industry. With 1-click CMS Installation like WordPress, 99.9% up time gurantee, and 24/7 support, it's a smart and easy choice.
One of the oldest web hosts started in 1996, Bluehost has become the largest brand name when it comes to WordPress hosting. They are an official "WordPress" recommended hosting provider. You never have to worry about your website being slow even when there is alot of traffic. They also offer a Free Domain and a Free Site Builder with templates.
iPage is the world top best hosting provider company. TRiX HUB Group sites also hosted on Ipage. Ipage give many credit to TRiX HUB Users. Ipage control panel is unique and very easy to use. Ipage give you lifetime free domain and many marketing values like free $100 google adword credit, Facebook credit etc For TRiX HUB users if you refer from here you can get all thease Free with your hosting.
Dream Host provides hosting solution to both small and medium-sized businesses and individuals.. It offers best hosting solutions to beginners and high end users. It is featured with easy to control panel with 15 languages. It provides free setup, 4 data centers placed all around the world, Free marketing and site administration tools, unlimited storage, SSH access, unlimited transfer with 1 free domain name. You can Also Get 430 Discount by Using Coupon THDREAM30
HostMonster provides personal users and business owners with just one hosting plan but with a package of various features included general and bonus, e-commerce and multimedia. The cost for Host Monster services is affordable and they may be considered as one of the cheap web host in the hosting field. Hostmonster offer Anytime money back guarantee, 24/7 customer support, Host Unlimited domains, cPanel Control Panel, Free options by HostMonster, FREE Domain name, FREE $75 Google + bing + Yahoo Adwards Credit, FREE SimpleScripts Application Installer, FREE Site Builders, FREE Web Site Promotion Tools, etc.