Searching for Best WordPress Theme Framework for your blog. The WordPress theme frameworks allow you to create the theme layouts quickly without having do lot of coding.
Almost all the leading WordPress theme designers prefer a framework based approach now a days and there are many great WordPress theme frameworks which you can use on your site.
Here we have collected best framework for wordpress to use in 2016. These fastest wordpress framework will improve your site presence.
Best WordPress Theme Frameworks
#1. Genesis
Genesis is the very Best WordPress Framework for Beginners and Experts provided by Studiopress. Genesis is known for their well optimized code, secure, SEO friendly, future proof and highly customizable. It is designed to always be used with a child theme. it is up to you whether you use one of the many offered by StudioPress or create your own.
If you are starting a new blog or even a business site Genesis is highly recommended.
It is the only framework here that offers so much in terms of features and support for such a reasonable one-off fee. Also, Genesis has a very active developer community that you can always turn to for advice when you get stuck. There are many genesis framework wordpress themes available online.
Price: $59.95 Genesis Framework; $499.95 Pro Plus All-Theme Package.

Purchase Genesis Framework
If you use WordPress, I'm sure you will already know about Elegant Themes, one of the most popular WordPress theme framework, Elegant Themes powers huge number of websites across world. For $69 a year, you get access to 85+ quality themes, a small but growing library of useful plugins and a support forum where you can expect responses in hours, not days.
Unlike some other frameworks (such as Genesis), you don't get access to the framework as such as you get access to the themes, all of which are built on top of the same framework. So you will have to use, or at least start from, an Elegant Theme, rather than create your own from scratch. This isn't necessarily a bad thing: it means you will have options that you can show clients out of the box and you can swap themes as much as you like.
Price: $69
#3. Tesla Themes
Like Elegant Themes, the WordPress themes from the TeslaThemes club are all built on a custom-made framework. By joining the club, you get access to all the existing themes and future releases.
Tesla Theme framework is part of the themes themselves, so there is only one set of files to upload, as opposed to the parent child relationship that is used by products like the Genesis Framework. As these themes are all built on top of the same framework it means that whichever theme you use from Tesla, it will have the same control panel and options for customization.
Price: $35 per theme or $45 for all themes
Purchase Tesla Theme Framework
One of favorite WordPress Theme Framework, each theme includes constantly improving Themify framework. Theme flexible framework provides complete control, allowing users to customize the theme without having to write any code or edit templates.
The Themify framework is used to power the WordPress themes. all Themify themes, includes the Themify Builder which allows you to create custom page layouts, and populate them with a range of page elements and modules, all though a drag and drop interface.
Some of the page elements or modules that can be dragged and dropped into your posts and pages include sliders, maps, galleries, tabbed areas, and a lot more. You can also add any widgets to your page layouts, including those widgets that are part of any plugins you've installed on your site, or custom ones you've created.
Price: $49
Recommended: best wordpress themes 2016
MySiteMyWay, like ElegantThemes or Tesla Themes, don't allow you access to the base framework to create your own themes. However, with their highly customizable themes, you should be able to create pretty much whatever it is you have in mind. Every purchase comes with free updates, unlimited support, layered Photoshop files and a 30 day money back guarantee.
One attractive feature of the themes built on the MySiteMyWay framework, is the ability users have of downloading skins, which can then be applied to the appearance their site. These skins cover many of the visual elements of a website, including the fonts, colours, background images, and much more.
Price: $35 Single Theme; $149 Theme Bundle
Another most popular WordPress theme frameworks, WooFramework is around for quite sometime and most popular choice for WordPress eCommerce sites. All their themes are powered with WooFramework. This is also part of Automatic ( The Developers behind WordPress).
Price: $99 For Single and $399 for Bundle
#7. WPZOOM Framework
All WPZOOM themes powered with WPZOOM Framework. WPZOOM provide good looking powerful themes with their framework. WPZOOM Framework have features easy to customization, SEO Friendly,Automatic updation.
WPZoom theme company created this framework and now use it to power all of their commercially available WordPress templates. This means that if you choose one of their many impressive WordPress themes, the underlying structure, code, and functionality of the framework will be coupled with design and appearance of your chosen theme.
The WPZoom framework also includes a number of shortcodes. These can be used to insert a good selection of elements into your content. This includes as buttons, tabbed areas, info boxes, column layouts, and more.
Speaking of plugins, the WPZoom team also offers a handful of WordPress plugins that can enhance your website. This includes the impressive WPZoom Builder plugin, a drag and drop landing page creator which can be used to promote your products and services in the right way for your business.
Price: $75 for Single Licence and $125 for Extended Licence
Purchase WPZOOM Theme Framework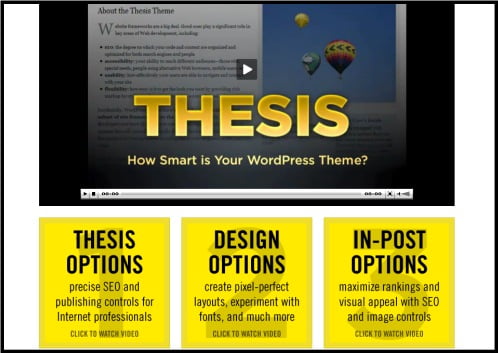 Whether you're running a personal blog or a business website, Thesis framework for wordpress is a perfect choice because it enables you to do what other WordPress themes can't. Thesis is not popular as Genesis, But Thesis is still one of the most well-known WordPress frameworks. It used to be known mainly for its focus on SEO.
Skins are great-looking designs that you can add to Thesis. You can tweak them using the visual template editor, which gives you point-and-click control.
Price: $87 Thesis Basic; $164 Thesis Basic Plus;Â $197 Thesis Professional
All frogsthemes.com WordPress themes empowered with the Options Framework, it will be much easier to roll out enhancements and new features to all their themes. When you purchase any theme from FrogsTheme you will get lifetime upgrades for free.
Price: Theme Starting From $47 (All Themes Powered with Option Framework)
We hope you find best one from these top wordpress theme frameworks list. This wordpress theme framework comparison guide to many beginners and experts.