Are you want to design custom home page of your blog or any other page but don't have html/ css knowledge. You are a WordPress user, so don't need any html/css knowledge to make custom pages. WordPress content builder plugins are available to create any type of page of your WordPress blog with drag and drop solution. It's very easy to make custom home page or any other landing page with WordPress page builder.
Check Out List Of WordPress Builder
Visual Composer WordPress Plugin is the top selling drag and drop wordpress builder. Visual Composer is drag and drop page builder plugin that will save you tons of time working on the site content. You will be able to take full control over your WordPress site, build any layout you can imagine, no programming knowledge required. Visual Composer is the top selling WordPress Plugin On codecanyon marketplace.
Price: $34
Purchase Visual Composer Plugin
Cornerstone WordPress Page Builder Plugin developed by Most popular wordpress theme X team. Cornerstone is a 100% front-end WordPress page builder that will change the way you create pages. Gone are the days of having to click back and forth between a clunky admin panel and your site. Now you can see all of your work as you build the page, bringing fun back into the creative process.
Price: $35
#3. The Divi Builder
The Drag and Drop Divi Builder Plugin powered by Elegant Themes. Divi Builder Plugin provides some incredible tools for structuring the content on your page. The plugin creates a visual drag-and-drop canvas where you can add, arrange and re-size advanced elements on your page. This builder appears below the normal text editor when you create a post or page, creating a unique canvas for each. The builder allows to you quickly create columns, sliders, tabs, buttons, toggles, boxes and so much more.This plugin Endless Features.
Price: $89 (With All the Themes and Plugins)
Purchase The Divi Builder
#4. Themify Builder

Themify Builder is very powerful drag and drop builder plugin powered by Themify. All themify themes come with Themify Builder. But you can buy only Themify Builder Plugin and use on any themes. This Plugin helps you build any page layouts with a live, frontend preview. Layouts are completely responsive, and what you see is what you get. It works on desktop, tablet, and mobile.
Price: $39
Purchase Themify Builder
Thrive Content Builder plugin is one of the best Page Builder Plugin available. Thrive Content Builder works based on a very simple idea: if you want to edit something, you click on it. It's not just a fancy convenience to have a drag and drop interface and all the editing options that Thrive Content Builder provides. This plugin has been honed and refined to the point where it will make a profound difference to the way you work.
This plugin is the real WYSIWYG Editor. Just check their features and you will be amazed. 
Price: $67
Purchase Thrive Content Builder
Awesome Builder is a WordPress Drag & Drop Page Builder and shortcodes generator that offers the best solution you need to build a modern web page in the easiest way ever.
You don't have to add any new blocks, just use your current widgets as we support all widgets.
Price: $28
Purchase Awesome Builder Plugin
#7. Ether Content Builder
Ether Content Builder WordPress Plugin is a powerful tool for building custom content pages aided with innovative visual composer. It comes equipped with many commonly used widgets that can be laid out via interactive drag&drop interface. Ether Builder can use 3rd party widgets as well as custom crafted ones. Ether Builder is actively developed by Por Design and gets regular updates and bug fixes.
Price: $34
Purchase Ether Content Builder
#8. Parallax Gravity
Parallax Gravity is a WordPress plugin that allows you to create unlimited landing pages. With Parallax Gravity you can add multiple sections within each page, for each section you can set a background, add any type of content including shortcodes from third party plugins and much more. Parallax Gravity is perfect for creating landing pages or product showcases
Price: $17
Purchase Parallax Gravity Plugin
#9. The Creator
The Creator is a great WordPress plugin that lets you create remarkable things even with mediocre themes. Spice up your content and draw visitors attention to the point!Animate entrance of site elements so your site looks modern and fresh. Use modern parallax effect on sections and with professional look impress even more!
Price: $33
Purchase The Creator Plugin
#10. WP Visual Page Builder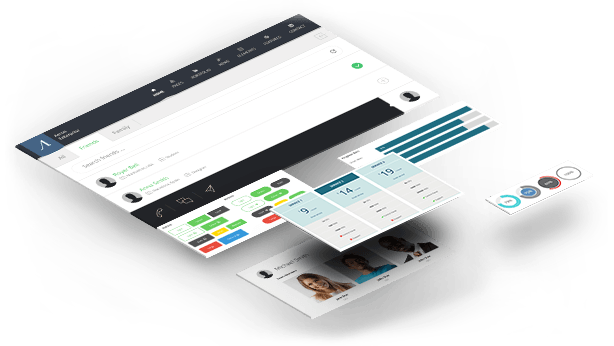 Drag and Drop Shortcodes is a great WP plugin with intuitive drag&drop interface and lot of elements to choose from, like: Accordions, Stats Counter, Knobs, Alert Boxes, Animation Box, Price Boxes, Progress Bar, QR Code, Service Boxes, Tabs, Team Member, Map, PayPal Buttons, Member Only Content, Tooltip, YouTube, Vimeo and self hosted HTML5 video…
With resizable and draggable sections and columns you can create any layout you want, animate column content, add parallax or video section background and many many more which lets you to create remarkable things even with mediocre or default theme.
This fantastic plugin lets you create content of pages and post simply, using drag and drop interface, without messing with code. There is no need to remember any shortcode, every attribute is accessible from pop-up modal windows and forms. It is so easy even child can do it.
Price: $30
Purchase WP Visual Page Builder Plugin
Build responsive page layouts using the widgets by this free page builder wordpress plugin. Page Builder by SiteOrigin is the most popular page creation plugin for WordPress. It makes it easy to create responsive column based content, using the widgets you know and love. Your content will accurately adapt to all mobile devices, ensuring your site is mobile-ready.
#12. Page Layout Builder [FREE]
Drag and Drop Page Builder / Layout Builder / Content Builder for WordPress. Building custom WordPress page layout using Page Layout Builder is just as easy as drag-and-drop. You don't need to run for learning HTML or finding a coder/designer to change a page layout.
Free Download Plugin
We Hope These Best Wordpress Page Builder Plugins help you to make Cool Pages. All these wordpress drag and drop builder are easy to use and have great features. If You are professional, We recommend to use Any Listed Premium builder plugin wordpress.